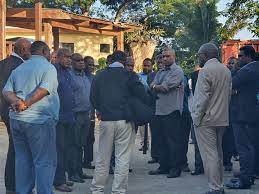 Vanuatu's Supreme Court has upheld a decision by the former Speaker of Parliament to expel 19 government MPs from Parliament.
The court ruling looks set to trigger the collapse of the government led by Bob Loughman and the Vanua'aku Pati.
Gracia Shadrack, who resigned the speakership last week, ruled that the 19, who include Prime Minister Loughman, had vacated their seats by failing to attend Parliament on three consecutive days.
The 19 MPs had sought a court ruling claiming their constitutional rights had been breached.
Justice Oliver Saksak rejected this argument.
A stay has been granted while the Loughman administration is expected to appeal, pending which the MPs remain as members of parliament.
If their appeal fails, there are likely to be 19 by-elections in Vanuatu.
In the short term, the opposition leader Ralph Regenvanu would have the inside running to form a new government – his Graon mo Jastis Pati had emerged from last year's election with the most MPs of any one party.
Even without the 19 government MPs, there would still be enough MPs in the 52-seat house to have a quorum.
Regenvanu and the opposition, with it 18 MPs, could then form a majority.
"The Parliament can proceed then to re-elect a speaker and then elect a prime minister, and the prime minister can appoint his ministers," he explained.
Previous court rulings, including Shadrack's own seat as an MP being declared vacant due to consecutive absences in 2019, had set a precedent for Friday's ruling.
Regarding the ruling, Regenvanu said it was a normal operation of the law.
"That's how the judge described it today (Friday), a normal operation of the law, and that's how the Court of Appeal has described it in the previous precedents.
"If you don't turn up to Parliament, three times in a row, without permission of the speaker, you then lose your seat. And that's what the court affirmed again today (Friday)."
Earlier, when resigning as speaker, Shadrack told local media that he did so to remove any suspicion or inference that he was seeking to protect his own position before the case commenced.
Despite having become offside with the government over the recent parliamentary dynamics, Shadrack subsequently sat with the government side and voted for its nominee for new speaker, Seule Simeon.
Heading towards friday's hearing, Simeon's office sought to end the legal case and efforts were made to have all the parties sign a consent form, but the lawyers already engaged in representing the Speaker's Office in this case, refused.
Furthermore, when Justice Saksak learned of what happened he accused the MPs' lawyer Robert Sugden of coming within a hair's breadth of attempting to pervert the course of justice, and refused to allow Morrison and Mahuk to cease to act.
Meanwhile, Simeon has called Parliament to resume on Monday.
Discussion in the Vanuatu capital has turned to reports that the remaining 13 government MPs are being encouraged by their beleaguered colleagus to consider resigning in solidarity and so forcing a full election.
"We believe wisdom will prevail, and self-interest will prevail," Regenvanu said.
"It was just over one year ago that we went to election, and I think the remaining MPs are not going to be happy to go back to election so soon, especially considering that some of them are not in a very good position to win back their seats."
The case came after the opposition had lodged a motion for a vote of no confidence which prompted the government to seek to remove the Speaker.
Both those motions were to be heard this past week but the appeal over the vacation of seats took precedence.
SOURCE: RNZ PACIFIC/PACNEWS