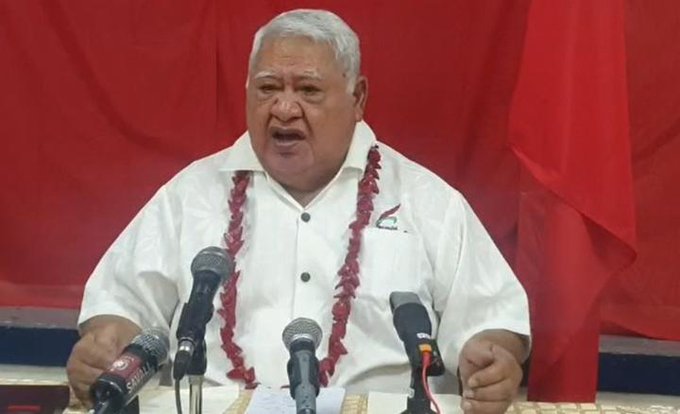 Former Prime Minister, Tuilaepa Sailele Malielegaoi, has met with the heads of the Samoa Government Ministries and urged them to give the new Fa'atuatua i le Atua Samoa ua Tasi (FAST) administration their full backing, the Samoa Observer can reveal
Tuilaepa, on Monday hosted a farewell meeting with all Government Ministry heads, encouraging all to give the new administration their full support.
"The whole meeting was to encourage the Government heads to throw our 100 plus per cent support behind FAST," the Samoa Observer was told by a meeting attendee.
The new Prime Minister, Fiame Naomi Mata'afa announced last Saturday that it expects the former caretaker Government to move out of its offices by the end of Monday.
But the Police say they have not received orders to forcibly remove the former Prime Minister and his Cabinet after the new Government's 5pm Monday deadline, the Deputy Police Commissioner, Auapaau Logo Filipo has said.
Speaking to the Samoa Observer, Auapaau said they had not received such an order for enforcement.
"We have not received anything like that; it must have been a dialogue between the two parties directly that they should vacate by five today," Auapa'au said.
"We were not copied in that. But we will wait if we do receive such an order.
"There's no order that the Police will close in on the former caretaker Government by 5pm."
Reliable sources have told the Samoa Observer that the FAST administration has rejected a request from the former Human Rights Protection Party (HRPP) government to give them seven days to pack out of their offices.
This request was confirmed by Maiava Visekota Peteru, a senior lawyer and presenter of a daily live update from the HRPP headquarter on Sunday, saying said the request was conveyed by the HRPP leader, Tuilaepa Sailele Malielegaoi himself to now-Prime Minister, Fiame Naomi Mata'afa.
The Samoa Observer understands that the new Government is standing by their initial announcement that they will move into their offices on Tuesday.
On Saturday, Prime Minister, Fiame said Parliament to be convened at the "earliest opportunity" in the coming week.
SOURCE: SAMOA OBSERVER/PACNEWS