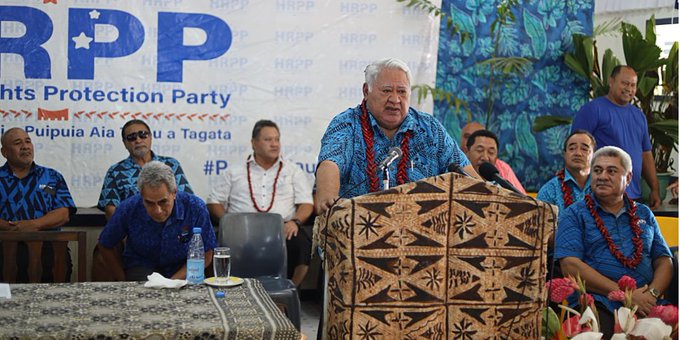 Former Samoa Prime Minister and leader of Human Rights Protection Party (HRPP), Tuilaepa Dr Sailele Malielegaoi has conceded defeat and welcomed the Fa'atuatua i le Atua Samoa ua Tasi (FAST) party led by Prime Minister Fiame Naomi Mata'afa to take over Government.
Holding a press conference at the HRPP headquarter in Petesa Monday, Tuilaepa took a deep breathe, recalling a long road his Government has come for the last 40 years since it got into power.
"FAST here is the Government," Tuilaepa told a crowd of more than 200 supporters and members.
After 23 years leading the nation as Prime Minister, the veteran MP of Lepa says his party is ready to stand on the other corner of parliament's chamber to lead the strongest opposition of Samoa.
"We will be present in every parliament sitting so we can uphold the duties we were called to do by our constituencies and not leave to do other things," he said.
In his farewell speech as the leader of the outgoing Government, Tuilaepa says he has also advised the heads of public servants to offer their support to the FAST administration and continue their hard work.
His decision follows the Court of Appeal verdict last Friday declaring the FAST party as the legitimate Government validating the party's impromptu swearing-in on the lawn of the Parliament on 24 May 2021.
The orders of the Appellate Court ends a three-month running power struggle leading to a stalemate since April's general election.
Tuilaepa also criticised the decision by the Court, saying it has destroyed the Constitution that the Samoan forebears fought for.
He added that to look into the future the HRPP will continue to do what it has always done and that is to work hard and serve its people.
SOURCE: SAMOA OBSERVER/PACNEWS