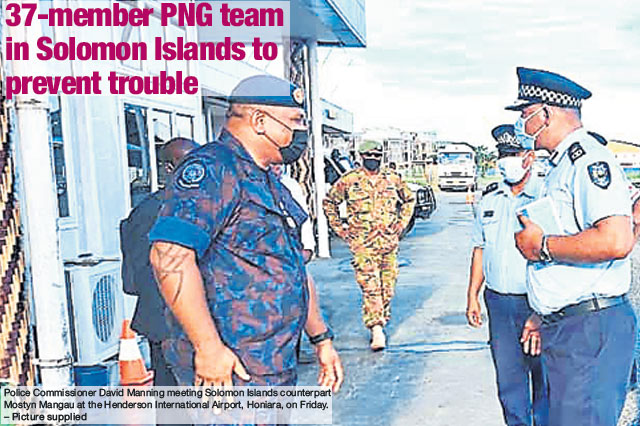 Papua New Guinea Police Commissioner David Manning says the country's engagement in the Solomon Islands is critical with emphasis on protection of several Government properties, including the Henderson International Airport.
Prime Minister James Marape said the deployment of a 37-member security team to the Solomons on Friday followed a request from his counterpart Manasseh Sogavare after recent protests, unruly behaviour and vandalism in Honiara.
Manning, after returning from Honiara on Friday evening, said 37 public order management personnel, including 14 Correctional Service officers, were on a mission to help contain the situation and ensure normalcy at the earliest in the Solomons capital.
They include 20 police personnel from the Special Services Division (SSD) and National Capital District Public Safety with 15 Correctional Services officers.
The contingent started its operations with a tour of the city which saw their presence welcomed by many residents, including PNG residents in Honiara on Saturday.
The PNG personnel deployed to the Solomon Islands had been specifically trained for the 2018 Asia-Pacific Economic Cooperation (APEC) meetings and would provide the necessary tactical expertise needed by the Solomon Islands police.
Manning said: "At this stage, we only provide manpower assistance and if need be, will continue to do so.
"This assistance is through a police-to-police arrangement and the deployment is covered under the Royal Solomon Islands police rules of engagement.
"It is our duty to protect life and property and we have just extended our generosity to our brothers and sisters, and importantly, to preserve peace and enhance posterity within the Pacific."
Manning, who was accompanied by director special services division Supt Julius Tasion, had a meeting with his counterpart Mostyn Mangau.
He was expected to brief the Government on the situation in the Solomon Islands.
Manning said help was being extended to the Solomon Islands by other Pacific communities, including Australia and New Zealand and anticipated the situation in Honiara to be brought under control soon.
Bank South Pacific Financial Group chief executive officer Robin Fleming said its branch at Ranandi, Honiara was destroyed by fire on Thursday and would cost up to K7.5 million to repair.
Manning said: "During my briefing with my counterpart Mostyn Mangau, he said the intention of local police on the ground with assistance from Australia and PNG personnel, is to address the domestic law and order issue first before focusing on international issues at hand.".
SOURCE: THE NATIONAL/PACNEWS