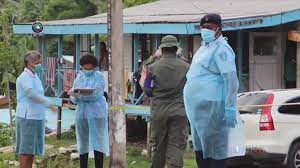 Fiji's Health Ministry chief medical adviser Dr Jemesa Tudravu is urging Fijians to not allow the number of COVID-19 cases to surpass the capacity of health services to cater for sick people.
He said if this eventuated, it could make work even tougher.
Dr Tudravu said the ability to achieve this was to follow COVID-19 safe measures.
"Stay at home, only three reasons to move – food, access health service and essential work."
He also highlighted that with the public health team facilitating the internal repatriation from the green to red zone over the past seven days, teams were also preparing for red to green repatration into Vanua Levu.
Dr Tudravu said Lautoka Hospital was now fully operational providing COVID and non-COVID admission services for the Western Division and supporting FEMAT field hospital for ICU care of children and babies.
He said the CWM Hospital was receiving all COVID-19 referrals from FEMAT and division, admission, ICU care, maternity and paediatric care.
Meanwhile, Health Ministry head of health protection Dr Aalisha Sahukhan says Fiji follows World Health Organisation criteria in determining whether or not a death is attributed to COVID-19.
Speaking at the Explain the Science 2 panel discussion on COVID-19 vaccines hosted by the Fiji National University, she said clinicians investigated symptoms and other details before attributing a death to COVID-19.
"So far from this outbreak we have recorded two deaths that we have attributed to COVID-19 and there were two deaths previously last year that were not part of this outbreak," she said.
"But we have also had six deaths for people who tested positive for COVID-19 but they had pre-existing conditions they were already in hospital for that, they were suffering from very severe illnesses that in the end the doctors said that they died from these illnesses and not from COVID-19."
She said the outbreak of the virus at the Colonial War Memorial Hospital began in an area with very sick patients.
"Unfortunately, the first ward that was hit was the acute medical ward so these were where the sickest people were managed, so they were already very sick, they had long standing chronic conditions that they were admitted for and because there was an outbreak in the hospital, they also tested positive for COVID.
"But the clinicians look at things like the symptoms that they had before they actually died, looking at all their blood results of the investigations and looking to see whether it actually correlates with a diagnosis of severe COVID-19 or it's more towards the disease that they were actually admitted for in the first place.
"So this could be things hypothetically like congested cardiac failure, they have heart failure, already and they die, or chronic renal disease where the kidneys are failing because of long standing diabetes, for example.
"So this is what the clinicians look at and we follow the WHO criteria as well and then we can say no, it was not COVID that caused these deaths, these are the diseases they were admitted for, these already very severe diseases," She said.
In another development, Dr Sahukhan said he national seven-day average daily test positivity is continuing to increase.
She said the country was now averaging about 65 cases per day for the past seven days.
Dr Sahukhan said the ministry also noted an increasing community transmission within the Suva-Nausori containment zone.
"So, all indications are that while we are testing at a very high level and we continue to contact trace, we are seeing increasing community transmission within the Suva-Nausori containment zone and our case numbers will increase as the permanent secretary has mentioned," she said.
"What this should mean is that everyone must take precautions to protect themselves from getting COVID-19.
"Stay home as much as possible. If you have to leave the house, please wear a mask.
Make sure you have the careFIJI app on if you have a smartphone and keep at least two metres between yourself and others outside your household, to avoid crowds."
Dr Sahukhan is calling on Fijians to get vaccinated to prevent people from getting severe disease and even dying.
She said getting vaccinated would also help reduce transmission of the virus in the community. "We've been through other outbreaks of infectious diseases.
In recent years, it was meningococcal C in 2018, measles in 2019 and together we end these outbreaks and save lives through the vaccination of hundreds of thousands of Fijians.
"Vaccination is not new to Fiji and we need you to come together again, to protect yourselves, protect your loved ones, and protect your communities," she said.
SOURCE: FIJI TIMES/PACNEWS