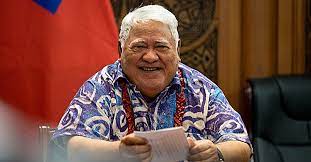 Samoa caretaker Prime Minister, Tuilaepa Dr. Sailele Malielegaoi, has accused the Fa'atuatua i le Atua Samoa ua Tasi (FAST) party as the primary factor behind Samoa's ongoing failure to convene Parliament.
Speaking during his weekly programme with TV3 on Wednesday evening, Tuilaepa sought to counter reports from FAST which have stated that the Human Rights Protection Party (HRPP) and the caretaker government is "preventing parliament from convening."
The claims from the leader of HRPP surfaced when Tuilaepa confirmed that all the elected MP from April's election have yet to receive salaries.
"Yes, they have yet to receive their salaries because Parliament cannot convene," Tuilaepa said.
"[And] The reason why we can't convene parliament, is because of FAST
"This is because they interfered with the work of the Electoral Commissioner because of their suspiciousness.
"That's why we are in the situation we are in right now.
"If it weren't for the legal challenge they brought up against the Electoral Commissioner following the appointment of Ali'imalemanu Alofa Tu'uau, we would have not been in the situation we are in right now.
"They dared took that appointment to the court and added to the workload of the judiciary and had to go through that long process because of their suspicion."
Tuilaepa claimed the action by FAST is a reflection of their lack of faith in God.
"They did not want to wait for God," he said.
"But they did not want to wait for God and that's why they went ahead and look for ways so they could get the answers they wanted.
"If they didn't do that in the first place, we would've not been in the situation we are in right now.
"So the question is, whose actions are to be blamed for the delay? It's not our fault, we have been trying to find a resolution but they rejected it."
Tuilaepa took aim directly at the leader of FAST and Prime Minister-elect Fiame Naomi Mata'afa, singling out a fundraiser held on Saturday night by Friends4Fiame at which she was a guest of honor.
"I saw that she [Fiame] went and conducted a fundraiser over the weekend to seek money for herself, but what about her party [FAST]?
"Then she uploaded it on Facebook for all of us to see and watch. But what about the other Member of Parliaments and her party," Tuilaepa said.
"Why won't she fundraise for her party, instead of her party.
"That's not how it works.
"So that's the truth, we have gone through the whole process and tried to solve this through our cultural values, but they refused.
"We are in this situation because of them.
"The whole country is in the dirt because of that."
Over the weekend, the leader of the FAST party accused the caretaker Prime Minister of "illegally" occupying the Prime Minister's office and preventing Parliament from convening.
SOURCE: SAMOA OBSERVER/PACNEWS