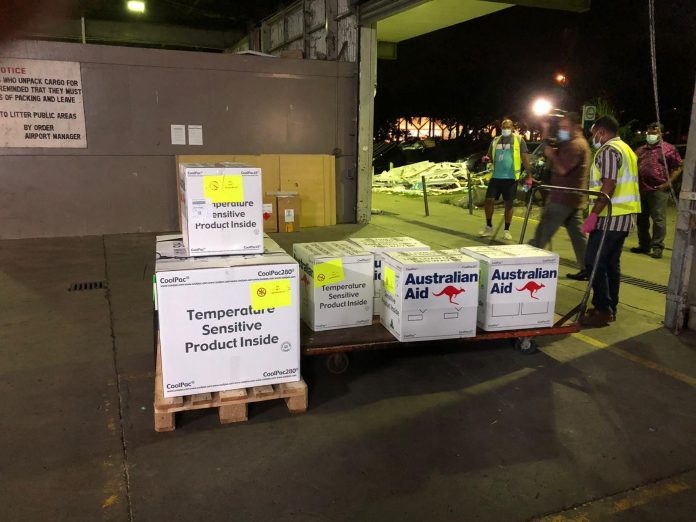 The arrival of 50,000 more Australian manufactured AstraZeneca doses last Thursday night is a further demonstration of Australia's commitment to stand with Fiji during this difficult time.
"It is Australia's highest priority that countries in our region, including our Fijian vuvale, have access to safe and effective COVID-19 vaccines. Australia has now delivered 180,000 vaccines in just over a month to support Fiji's fight against COVID-19. This is part of Australia's commitment to provide Fiji with one million vaccines," said Australian High Commissioner to Fiji, John Feakes.
"Together with New Zealand's commitment of 500,000 vaccines, Fiji will have enough doses to fully vaccinate its entire eligible population," he continued.
Quality and effective vaccines are an important tool in the fight against COVID-19. But they alone are not enough to ensure the safety and protection of our citizens. This is why Australia has provided a broad range of support to Fiji including over FJD$152.5 million (US$74.3 million) in direct budget support (the latest tranche of FJD$42.5 million(US$20.5) signed Friday, COVID-19 testing equipment and qualified lab technicians, 1.3 tonnes of Personal Protective Equipment and medical supplies, and much more.
"As we work with our Fijian vuvale through these challenging times, I'd like to reassure Fijians of our continued support to you all as a friend and Pacific neighbour. While case numbers have increased, so has our resolve to fight this virus together. You are not alone, Fiji. Australia stands with you, just as Fiji has stood with Australia in our times of need. We are in this together and we are stronger that way," Feakes added.
As more vaccines reach Fijian shores and the current outbreak becomes contained, Australia will continue to support the Fiji Government, the people, and the processes in place to ensure a quick recovery and re-opening post-COVID.
Meanwhile, new assistance of Personal Protective Equipment (PPE's) valued over $500,000 (US$250,000) has been provided by the People's Republic of China to support Fiji's national response to the second wave of COVID-19.
The first batch of consignment comprises of new PPEs including 550,000 surgical masks, 2000 gowns, 200 thermal guns and it arrived into Fiji this week Thursday. The assistance is mobilised by the Chinese Embassy in Fiji and People's Government of Guangzhou Municipality, in the Guangdong Province.
In acknowledging the assistance, Minister for Health and Medical Services Dr Ifereimi Waqainabete expressed his appreciation to the People's Republic of China for the timely support rendered to Fiji.
Minister Waqainabete said PPEs is an essential resource for the health care professionals and this assistance also attests to the commendable efforts of thousands of Fiji's frontline workers who have dedicated their lives to serve the nation and safeguard the wellbeing of their fellow Fijians.
Minister Waqainabete further stated that while Fiji has a long and tough road ahead, working in solidarity is of paramount to get through the COVID-19 crisis.
Chinese Ambassador to Fiji, Qian Bo said China understands the challenges Fiji is currently facing and through this assistance, China conveys its commitment to continue assisting Fiji at this time of great need.
"To fight the COVID-19, China will stand firmly with the people and government of Fiji. In China's Guangdong Province, people are also in an arduous fight against COVID-19 now, but that won't stop them from supporting their sister cities in battle with the virus.
"The PPEs will help our frontline workers prevent potential health risks and strengthen their confidence in performing tasks and providing protection to the rest of us. China will continue its help and push forward the bilateral cooperation further, contributing to the economic recovery of Fiji and help Fijian people back into a normal life early," Ambassador Bo said.
The People's Republic of China also assisted Fiji when it was affected by the first wave of COVID-19, last year.
The assistance from China has been through the donation of PPEs and medical supplies; with humanitarian assistance also provided in the aftermath of Severe Tropical Cyclones Yasa and TC Ana.
The People's Republic of China has also reaffirmed its commitment to the region at the China and Pacific Islands Countries (PICs) Political Leadership Dialogue convened last week. The meeting paved the way forward for PICs and China in collectively, "Working together to build consensus across the ocean and pursue shared development
SOURCE: AUST HIGH COMMISSION/FIJI GOVT/PACNEWS