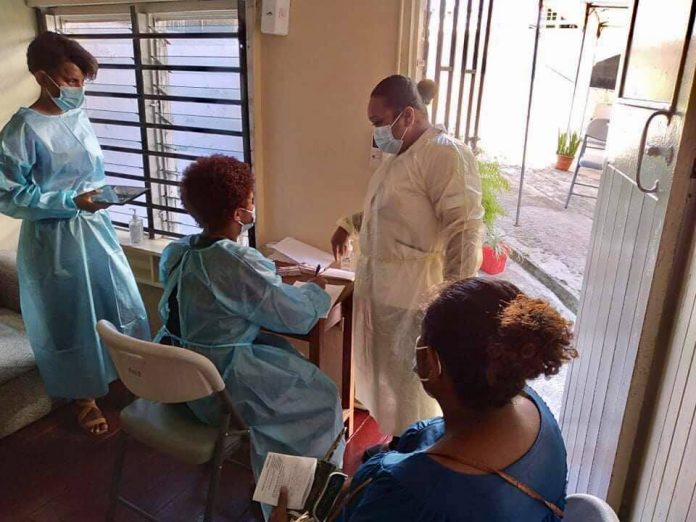 Fiji has recorded 632 new cases of COVID-19 and two deaths recorded Sunday.
Ministry of Health and Medical Services permanent secretary, Dr James Fong said 62 cases were from the Western Division and 570 cases from the Central Division in Vitilevu, Fiji's main island.
He said the first COVID-19 death was a 35-year-old man from Newtown who died at home (31/07/2021), and had not vaccinated.
Dr Fong said the second COVID-19 death was a 55-year-old man from Ba.
"He presented to a medical facility in severe respiratory distress. A medical team retrieved him from the medical facility and brought him to the Lautoka Hospital. His condition worsened in the hospital and he died 4 days after admission. His family reported that he had generalized body pain, a cough and shortness of breath four days prior to his presentation. He received the first dose of the vaccine in mid-July. He did not receive the second dose of the vaccine. This means that he was not fully vaccinated," Dr Fong said.
"With today's (Sunday) newly reported deaths, there have now been 241 deaths due to COVID-19 in Fiji, with 239 of these deaths during the outbreak that started in April this year. The 7 day rolling average of COVID-19 deaths per day is 8. We also have recorded 130 COVID-19 positive patients who died from the serious medical conditions that they had before they contracted COVID-19; these are not classified as COVID-19 deaths," said Dr Fong.
He said there had been 237 new recoveries reported since the last update, which means that there are now 22,100 active cases; 18,906 active cases are in the Central Division and 3194 in the Western division.
There have been 30,343 cases during the outbreak that started in April 2021; and a total of 30,413 cases in Fiji since the first case was reported in March 2020, with 7942 recoveries.
Dr Fong said the treatment and management for COVID-19 do not change.
"So if you test a person who is in their 30s who has no chronic illness, and they recover after 14 days, the value of the test is that you can tell them yes you had COVID-19," he said.
"But we still say to the person, isolated at home, self-isolate.
"You take Panadol if you have pain or fever.
"The treatment is the same so now what we are saying to people is do not fall into those severe risk groups or high-risk groups.
"If you develop flu-like symptoms, cough or runny nose it is very likely you have COVID."
Dr Fong said he was also aware that a lot of COVID-19 patients had followed the same treatment and they were only instructed to watch out for severe disease symptoms like shortage of breath and chest pain.
"The management, treatment does not change.
"You stay home, take Panadol and fluids."
He said people who developed severe symptoms must visit the health care facility immediately.
Meanwhile, 64 COVID-19 patients are currently on oxygen support while three patients are on ventilators, says Health Ministry chief medical adviser Dr Jemesa Tudravu.
He said on Friday that 332 COVID patients were currently admitted in hospital facilities of which 84 were in a severe or critical condition.
Dr Tudravu said a total of 384,200 individuals had been screened and 70, 744 individuals had been swabbed.
He also said all major health services were operational in all the divisions.
Dr Tudravu said they were concerned about the increase in the number of new cases and deaths in the country.
"In terms of health services, all our major health facilities remain fully functional in all divisions providing emergency services, admissions, and inpatient care for COVID and non-COVID patients," he said.
Dr Tudravu said a patient care flow pathway has been established to ensure that all cases of COVID-19 are identified and followed up.
"This essentially means that if a patient is diagnosed with COVID-19, that patient will be directed to a care plan where the patient will be admitted at home and followed up through telehealth.
"They can also be admitted to an intermediate care facility such as the field hospital and cared for by our team or admitted at the main hospital for high-level care," he said.
SOURCE: FIJI TIMES/PACNEWS