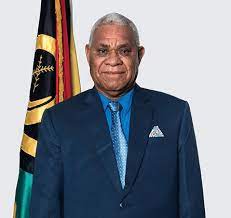 –Vanuatu Prime Minister Bob Loughman has called on the people of Vanuatu to remain calm as relevant agencies deal with the issue had at in the political arena.
The PM made the call during a media conference Wednesday after the Supreme Court granted an application to stay the decision of the Speaker, who had announced that 19 Members of Parliament (MPs) on the government side had vacated their seats.
Loughman repeated what he said after the parliament session on Tuesday that the Court alone can remove a sitting member of parliament from their chair but the Speaker of Parliament cannot do that alone in his capacity.
"We want to see democracy prevail in our country.
"We must not take the law into our own hands and we have to remain calm and listen to what the Court says.
"I am glad that the government still remains; the ministers that are with me, (Deputy) Speakers still remain in their positions until the Court reconvenes," Loughman appealed to the public.
When responding to claims that the Opposition had numbers to topple the government he leads through a motion of no trust, the prime minister says his government still commands the majority.
"At the First Extraordinary and First Ordinary Sitting (sic), the government still commands the majority of members of Parliament.
"I want the people in our country to understand that their duly elected government still remains.
"We look forward to the outcome of the Court.
"If the Court reinstates us (fully) to Parliament, we will defeat the motion of no trust against the prime minister.
"Majority inside the House determines the way forward, not one person, not minority, but majority rule.
"It is the view of the government to respect and rely on majority rule.
"That is the principle of democracy, not only in Vanuatu but throughout the whole world," the Prime Minister concluded.
Meanwhile, deputy Prime Minister and Minister of Internal Affairs, Ishmael Kalsakau, said while the matter is still in Court, not much detail will be revealed in regards to the case that is being dealt with by the Court, as only the Court will make the final decision on it.
Minister Kalsakau expressed the government's gratitude about the intervention of the Court to grant the government's application to stay the ruling of the Speaker.
He also expressed concern about an alleged custom ceremony reportedly taking place in the Parliament compound last evening, which he says police are investigating.
Kalsakau says the government wants to complete and exhaust all processes to ensure that justice is seen to be done.
SOURCE: VANUATU DAILY POST/PACNEWS