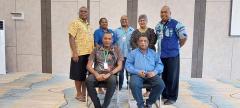 The Fiji Times editor-in-chief Fred Wesley says he has to live under the ambiguous provisions of the Media Industry Development Act (MIDA) 2010 "from Monday to Sunday".
He said this while speaking at the sixth Pacific Media Summit in Honiara, Solomon Islands last week.
Wesley pointed out provisions in the law that said no media organisation in Fiji could publish materials that were against public interest or order, and which created communal discord.
"If someone is convicted under these provisions, a media organisation can be fined $100,000 and the editor can be fined $25,000 (US$12,500) or get a jail term of two years or both," he said.
"That law is draconian. "Those provisions in the MIDA law hang over my head from Monday to Sunday and it's not pleasant. The provision that an editor has to go to jail is not pleasant either. I have to live with it every day."
Wesley said while no editor had been prosecuted under the MIDA law, the ambiguity in the law remained a concern.
"As long as MIDA is there, editors like me have our work cut out to ensure there are no slips in our reporting," said Wesley.
SOURCE: FIJI TIMES/PACNEWS