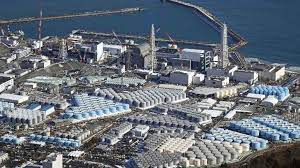 Japan's Government says nuclear wastewater it plans to dump into the Pacific Ocean will be treated.
Earlier this year it announced plans indicating that 1.25 million tons of wastewater from the wrecked Fukushima Daiichi Nuclear Power Plant would be discharged into the Pacific.
Last month, the outgoing Secretary-General of the Pacific Islands Forum, Dame Meg Taylor, expressed concern over a lack of consultation by Japan with islands countries over the plans.
Echoing this, the Forum's new Secretary-General Henry Puna demanded clarity over the plans.
Given the toxic legacy of nuclear testing in the Pacific, he said the threat of more nuclear contamination was of significant concern to the health and security of the Blue Pacific continent.
However, the Deputy Head of Mission at Japan's Embassy in New Zealand, Tatushi Nishioka, said contaminated wastewater would not be released without any treatment.
"This is because the water to be released is what we call ALPS (Advanced Liquid Processing System) treated water, which will be treated to remove nuclides," he said.
"The water will be purified/re-purified and diluted to meet regulatory standards, and safety of the discharge will be ensured."
Japan said its policy for treatment of the water to be discharged was based on six years of comprehensive study by experts, and reviews by the International Atomic Energy Agency.
After the Agency recently said Japan's dumping plan was technically feasible, Puna called for a frank discussion ahead of a meeting with the head of the organisation.
The plans have already been approved by Japan's Cabinet, due to start within two years.
SOURCE: RNZ PACIFIC/PACNEWS