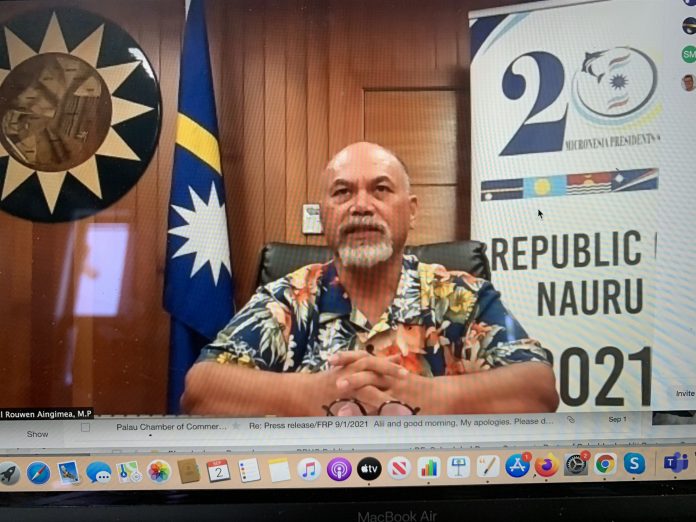 The University of the South Pacific(USP) has produced a record $34.2 million (US$16 .4 million) surplus in the last financial year when millions of taxpayers money have been wasted in the past due to misuse and mismanagement in the institution, says chancellor and Nauru President Lionel Aingimea.
Aingimea told the Nauru parliament the regional university has implemented reforms so past mismanagement, corruption, fraud and financial irregularities reflected in the BDO report should not be repeated.
"The losses reflected in the BDO report run into millions of taxpayers and government's grant dollars"
"Going forward, I will be urging the council to develop strategies to ensure that the university remains financially sustainable."
"This helped in surviving in 2021 albeit that it cannot undertake any strategic investments or deal with a decade of deferred maintenance," he said.
He said Fiji's holding back its grant to USP is a divisive move against regionalism.
Aingimea said Fiji's decision comes despite member countries – supported by staff and student unions – voting overwhelmingly to support the offering of a new contract to vice-chancellor Pal Ahluwalia.
"Fiji's Attorney-General Aiyaz Sayed-Khaiyum has expressed disapproval of the decision of the council to reappoint Ahluwalia in a parliament sitting on 19 August ," he said in Nauru's Parliament.
"Needless to say, there were a lot of statements that were issued by many bodies and people who went against what Sayed-Khaiyum stated in Parliament.
"In terms of the council's actions, I state that in a democratic environment, where respect and honour are paramount, we as the employer of the vice-chancellor voted for his reinstatement.
Aingimea said the university council has never before met so often in a year, showcasing unwavering dedication to ensuring transparency, fairness and good governance.
Meanwhile, a USP executive director's contract was renewed despite the staff review committee allegedly rejecting his request for a renewal due to his age.
And executive director Strategic Partnerships, Advancement and Communications executive director Jaindra Kumar continued to be paid Fiji National Provident Fund contributions despite the FNPF telling USP Kumar was no longer a member, claims chancellor and Nauru President Lionel Aingimea.
Aingimea told Nauru's Parliament external consultants BDO had examined Kumar's employment file and noted that on -06 August, 2017, "the staff review committee rejected his request for a contract renewal due to his age."
He also claimed USP paid $28,274(US$13,616) in FNPF contributions for Kumar despite a letter from FNPF saying he was no longer a member and not eligible to rejoin.
He also claimed the paying of multiple allowances to Kumar on top of his $150,000(US$72,238) a year salary was "fiscally irresponsible" as "it would be very difficult to deliver all of these roles adequately."
Wife and Minister for Education Premila Kumar said she will not be commenting on Aingimea's statements.
SOURCE: FIJI LIVE/PACNEWS