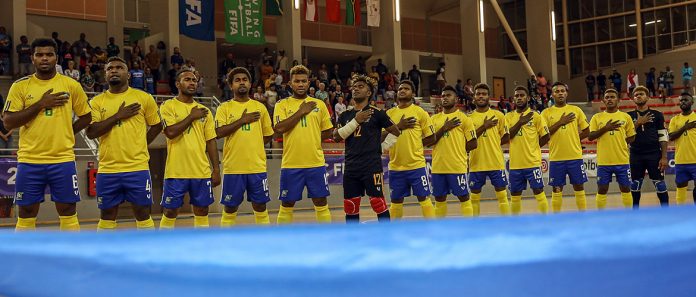 The Solomon Islands are days away from stepping onto the world stage once again, as the FIFA Futsal World Cup 2021 kicks off in Lithuania.
The side, known as the Kurukuru, earned the right to represent Oceania at the event by beating New Zealand on penalties in the final of the OFC Futsal Nations Cup in 2019.
The Kurukuru play their first Group C match at the World Cup against Morocco on September 13 (4pm kick-off Lithuania time), a day after the tournament gets underway, followed by games against Portugal on September 16 and Thailand on September 19 local time.
As part of their World Cup preparations, the Vinicius Leite-coached Kurukuru took on some of Europe's top futsal nations in this month's Futsal Week Summer Cup in Croatia, along with playing a series of friendly matches against European club sides in Poland.
Most recently they secured a 3-1 win over Malta en route to a fifth-placed finish in the Futsal Week Summer Cup, marking the first time an OFC nation has beaten a UEFA side in a futsal international.
Prior results saw the Solomon Islands fall short in losses to Finland (6-2), Saudi Arabia (7-3) and Italy (3-0), with the latter proving costly for the Kurukuru due to key player Raphael Lea'i suffering a fractured right arm which ruled him out of the World Cup.
Despite the injury Lea'i was awarded the Individual Fair Play award at the competition.
In Poland the Kurukuru secured big wins over MSK Slask Wroclaw, 15-2 and 9-3.
They also drew 3-3 with Germany's Hohenstein – Ernstthal HOT 05, picked up a 4-2 win against Czech Republic club side FTZS Liberec and drew 5-5 with Polish Cup champions Red Dragons Pniewy.
OFC Futsal Coach Educator Juliano Schmeling, who previously coached the Solomon Islands, said the games were much needed after 20 months without international futsal due to COVID-19 restrictions.
"The first challenge was to take the full squad to Europe to ensure they had the best facilities, trainings and matches leading up to the tournament," Schmeling said.
"I believe that was the best decision they could have made and I'm proud of how they have adapted to the situation.
"So many people are looking forward to watching the Kurukuru at the World Cup and I know the OFC region will be proud of them regardless of the outcome."
The 24-team World Cup features six pools of four, with the top two from each pool advancing to the Round of 16 alongside the four highest-ranked third-placed teams.
The final will take place on October 3 local time.
2021 Solomon Islands (Kurukuru) squad:
Anthony Talo, Alvin Hou, Elliot Ragomo, George Stevenson, Marlon Sia, Charlie Otainao, Alvin Ray, Jeffery Bule, Micah Leaalafa, Samuel Osifelo, Coleman Makau, Arnold Maeluima, Elis Mana, Lauwale Ata, Paul Laki
The Kurukuru's Game Schedule:
Game 1 – Morocco v Solomon Islands – Sep 13, 6.00pm Lithuania time
Solomon Islands – Sep 14, 2.00am
New Zealand – Sep 14, 3.00am
Game 2 – Solomon Islands v Portugal – Sep 16, 6.00pm Lithuania time
Solomon Islands – Sep 17, 2.00am
New Zealand – Sep 17, 3.00am
Game 3 – Solomon Islands v Thailand – Sep 19, 6.00pm Lithuania time
Solomon Islands – Sep 20, 2.00am
New Zealand – Sep 20, 3.00am.
SOURCE: OFC/PACNEWS