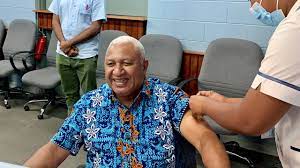 ---
Fiji Government will soon present a legislation in Parliament to allow "on-the-spot" payment of fines for not wearing masks and businesses not adhering to COVID safe measures .
Prime Minister Voreqe Bainimarama announced this on Saturday night while delivering his COVID-19 statement to the nation.
Bainimarama said the legislation to change enforcement of COVID emergency would be presented as soon as Parliament sits.
"It will seek to make businesses equally accountable for non-compliance by employees and customers," he said.
"For example, business owners who allow patrons into their establishment without masks would be penalized as well as the patron. After more than three violations, businesses may be shut down."
Bainimarama said it was imperative to understand that your direct lack of compliance, or your family members or people in your street, your community, your village, or your workplace, would mean that you may eventually lose your job, may not have a source of income, may not be able to operate your business.
"We are making progress again. But the rest is up to all of us—not just the ministry of health. Not just the Republic of Fiji Military Force (RFMF) and the Police.
"We need individuals, families, communities, we need businesses, businesswomen, and men to participate in making these measures work.
"We as Government have also learnt that the private sector must be made to participate in spaces that currently are seen only as the domain of the public sector," said Bainimarama.
Meanwhile, Fiji Government's decision to relax border controls contradicts what the Health Ministry permanent secretary Dr James Fong has been saying, says National Federation Party leader Professor Biman Prasad.
"Has the Government not heard Dr Fong say when people move, the virus moves," he said.
"Why is the Government acting contrary to common sense?"
He said the only substantial economic measures offered to protect affected people was for people to withdraw their Fiji National Provident Fund (FNPF) for another month.
"This failed strategy ignores the tens of thousands of poor people outside that system."
Prof Prasad said it was obvious from the long delays in Government announcements that the Government was severely internally divided.
"We need a four-week lockdown limiting movement to people, one at a time, for shopping or exercise only. During the lockdown period, we must get at least $20 million(US$10 million) in cash and food support to the poorest people using the networks of the charity, NGOs and faith-based organisations."
Fiji Labour Party leader Mahendra Chaudhry also said the relaxation of border controls in the Lami, Suva, and Nausori containment zones came with great inherent risks which, if not rigidly managed, could cause a major outbreak of the virus in the Central Division.
"The easing comes at a time of heightened infection numbers – 46 new cases announced last Friday, the highest so far in a single day," he said.
Chaudhry said it was only proper that the people of Fiji were kept accurately informed on a daily basis by the Ministry of Health.
Questions sent to the Minister for Health Dr Ifereimi Waqainabete and the Minister for Economy Aiyaz Sayed-Khaiyum remained unanswered.
SOURCE: FIJI TIMES/PACNEWS