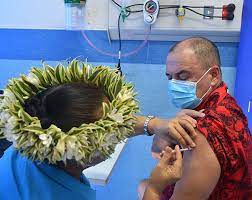 -"It was painless and efficient" commented Cook Islands Prime Minister Mark Brown after receiving his first dose of the Covid-19 Pfizer vaccine at the Rarotonga Hospital.
He was welcomed by the efficient and attentive healthcare staff at the hospital who have been working tirelessly over the past 12 days to administer the vaccine to the eligible population of Rarotonga.
"I think it is important that everybody gets vaccinated," Brown said.
"We have seen this pandemic affect the entire world. Your decision to be vaccinated against Covid-19 should not be a difficult choice. It just makes sense."
Brown left Rarotonga for New Zealand on the flight that arrived from Auckland with the first batch of the Pfizer vaccine on Monday, 17 May. He was in New Zealand to attend his daughter's graduation ceremony.
The Prime Minister said it was important that all leaders including Members of Parliament, the Ui Ariki, and the Religious Advisory Council, lead the way in being the first of the population to receive the vaccine.
He said on his return from New Zealand he would be one of the last in Rarotonga to have their first vaccination shot.
"I have been blown away by the public's response to the vaccination rollout over the past two weeks," Brown said.
"The work done by TMO (health) officials to encourage people to come up and get vaccinated has been tremendous and we have seen that in the response of our people that they have done an excellent job."
Brown said those on Rarotonga should also be congratulated for their response to the call to be vaccinated. In doing this they have set an example for the Pa Enua that the vaccination process is "easy, it's simple, it's painless, and it will save lives".
He responded to concerns made by a few hesitant members of the public who were concerned at the fact that if you refused to get vaccinated and then caught the Covid-19 virus, you would be responsible for the costs of your own isolation process.
"I think the biggest concern for anybody who does not get vaccinated and then ends up getting Covid-19 should not be how much money it's going to cost them.
"Their concern should be whether they are going to survive or not. If they're worried about money, they really have their priorities wrong," said Brown.
Another concern of some members of the public regarding the isolation process in the event that the virus does enter the country is whether that process would be different for local residents and overseas visitors.
Te Marae Ora has a system in place for any event of the virus coming into the country," the Prime Minister said.
"They have a process that will cover everybody in the country. There is no separation of tourists vs locals."
He expressed his confidence in the health preparedness of TMO as well as the systems they have working in conjunction with New Zealand.
"These systems will prevent the virus from coming into our country at the first instance because it will be first identified in New Zealand.
"In the event that it does come into our country we have containment measures that are put in place to ensure that it doesn't spread," the Prime Minister said.
"The vaccine that we have on everybody really just provides protection to all the people of the Cook Islands. So if a tourist does bring in the virus our people are protected," he said.
To those who want more information regarding the vaccine to help them decide, the Prime Minister said he understands their hesitancy.
"I think that Te Marae Ora has done a tremendous job with their awareness programme and explaining to people over social media and on TV addressing the concerns that people have about the vaccine, how it is made and how safe it is. That in itself has gone a long way in addressing people's concerns," he said.
"There are people who will have their own philosophical objections to being vaccinated. There is nothing much we can do about that," Brown said.
"While it is not compulsory, I cannot stress enough how important it is that everyone living here in the Cook Islands aged 16 and over makes use of this vaccine.
"By getting vaccinated you are not just protecting yourself, you are protecting all those around you – your children and other loved ones, extended family members, friends, co-workers and all those you come into contact with each day."
Director Hospital Health Services Dr Yin Yin May shared her satisfaction of the first vaccine rollout programme and said that it has been very successful.
Approximately 7200 people aged over 16 years have now had their first of two vaccinations, which represents close to 95 per cent of the Rarotonga population eligible to have the Pfizer vaccine donated by New Zealand.
There needs to be a minimum gap of three weeks before the second dose is administered. Results from the many millions of two-dose Pfizer vaccines around the world show it has a well over 95 per cent success rate in preventing people from contracting Covid-19, or if they do, they do not suffer serious illness.
Because they have received an overwhelming amount of people on Rarotonga coming to receive vaccinations, numerous amounts of the vaccine have had to be ordered days before the supply would be needed.
The vaccine, being temperature-sensitive, meant they didn't turn anyone away to ensure all of the supply they had in stock would be used.
"It has been a very successful period. There are people who are still refusing the vaccine but we have done as much as possible and at the end of the day it is the choice of the individual," Dr May said.
SOURCE: COOK ISLANDS NEWS/PACNEWS