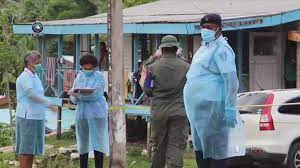 Fijians who continue to flout certain advisories and are not adhering to the COVID-19 measures will now be issued on the spot fines.
The Public Health Amendment Bill 2021 has been passed in Parliament last night after a short debate.
Offences covered under the amendment include the failure to wear an appropriate face covering and not presenting the careFIJI mobile application on entering business premises.
It also includes the failure to comply with mandatory curfews, physical distancing requirements and capacity restrictions for gatherings, events, public service vehicles and businesses.
Attorney General Aiyaz Sayed-Khaiyum said the amendments also act as a deterrent, dissuading people from breaching the COVID-19 restrictions.
"At the moment, the law is if I am not wearing a mask and they see me not wearing a mask they will arrest me or they will take me to the cell and lock me up. The difference now would be, once we have this penalty when you're not wearing a mask they will write an infringement notice and you will have to go and pay a fine. The reason why we're doing this is because we need to inculcate a behavior and ensure compliance, we need to ensure there is deterrence without causing efficiency and productivity."
Minister for Health, Dr Ifereimi Waqainabete said the laws are critical in addressing certain issues, especially the strengthening of requirements to wear face masks.
"This legislation or policy when actually practiced on the ground is designed to respond appropriately as a whole of nation approach to the outbreak. This amendment that's been brought in terms of ensuring that we can be able to provide fines as a deterrence is one of the most important as we seek to stop the transmission of the virus and bring this country to be COVID contained."
Minister for Defence while contributing to the debate said the Bill is about collective security and the protection of every Fijian.
The passing of the Bill means Police officers or authorised officers can issue on the spot fines if they have reason to believe that a person has committed an offense under the amended Public Health Act.
Meanwhile, Defence Minister, Inia Seruiratu said he welcomes further investigation into accusations against the RFMF soldiers and the Navy officers.
There have been a lot of claims made that members of the two disciplinary forces are the super-spreaders of Covid-19.
Seruiratu said it is unfair and unacceptable that the soldiers and the Navy officers are being blamed.
While debating the Health Amendment Bill 2021, an emotional Seruiratu said he doesn't take these comments lightly as these officers are making a lot of sacrifices to ensure the country is safe from the pandemic.
He also stressed that the Military Commander has demanded a thorough investigation into the matter by the Ministry of Health.
"We need to get to the bottom of this but let's be positive about this. As I have said, it is not about blaming people, because anybody in the frontline is vulnerable and equally exposed and that is a risk that all frontliners face. But why the Military, why the Navy? We have got doctors and health workers who have been affected as well, but they are not put in this category of super spreaders. That's unfair and unacceptable."
He said the evidence in the investigation in the first case involving a military officer shows otherwise.
"There are systemic issues that need to be addressed and I welcome the commitment from the Minister for Health that he has already stated that will there be an investigation and I am sure that they are already in the process of an investigation," Seruiratu said.
In another development, Fiji has reported 28 new cases of COVID-19 Thursday.
Ministry of Health permanent secretary Dr James Fong says 23 of the new cases are linked to the existing clusters:
*Nawaka Nadi cluster- 2
*CWMH cluster – 1
*FICAC cluster -4
* Navy cluster- 16.
He said three of the cases are close contacts of a case under investigation from Caubati that was announced Wednesday.
One case is under investigation with no known links to other cases at this stage.
The other case from Navosai, Narere, was tested after presenting to Valelevu Health Centre with symptoms, and an investigation is ongoing into any links between this case and other cases.
Dr Fong said two patients had recovered, which means there were now 349 active cases in isolation.
He said there have been 466 cases during the current outbreak that started in April this year.
Fiji has recorded a total of 536 cases in Fiji since the first case in March 2020, with 183 recoveries and 4 deaths
SOURCE: FBC NEWS/FIJI TIMES/PACNEWS