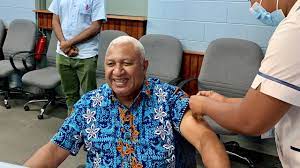 Fiji is leading the world in COVID-19 containment.
Prime Minister Voreqe Bainimarama said all the measures put in to protect Fiji against the pandemic has worked.
Speaking to Fiji National University students, Bainimarama highlighted that Fiji is about to mark a year since the last case of community transmission.
"I am not speaking to you through a mask and we are not meeting virtually because we defeated our outbreak of the coronavirus and have kept our people safe from the pandemic for more than 350 days. No nation on Earth has matched that record."
The Prime Minister said Fiji now has a chance to join the world in defeating the pandemic for good.
This, he said can be achieved by registering for the COVID-19 vaccine and receiving the shot when the time comes.
Bainimarama also said local authorities have worked hard to bring the medical marvel to Fiji so that everyone can be protected.
"I have received my first dose. I'm feeling great health-wise, but not only that. I feel even better about the fact that I've done my duty to get us on the road to recovery."
The government has set up a number of locations in communities to make it easier for people to register and be vaccinated.
Fijians are now becoming more eager to get the COVID-19 vaccine after the clearing up of misinformation associated with AstraZeneca jabs.
The Ministry of Health said they have also noted a change in peoples' attitude towards vaccination with more Fijians now turning up to vaccination venues.
Head of Fiji's vaccine task force, Dr Rachel Devi said misinformation about the AstraZeneca vaccine that was a hindrance in the vaccination process is clearing up.
"We've actually gotten some good responses, while some have asked for some leaders to get vaccinated then they'll follow suit."
UN Resident Coordinator, Sanaka Samarasinha said it is imperative for all Fijians to get vaccinated.
"It is important for this country and certainly for the health of its citizens but also for the health of the economy that we get as many people vaccinated so we can get the borders open and we can get people back to work."
9,800 people have received the COVID jab from the second batch of vaccines.
Meanwhile, Fijians must pay the costs of their quarantine after they arrive in Fiji on repatriation flights.
Health Minister Dr Ifereimi Waqainabete says it's a matter between the person quarantined and the facility where they stay during the mandatory two-week period.
The Minister's comments follow cases where people say they did not know they had to pay their quarantine costs.
"That is a poor excuse, for nearly one year they came in because they actually indicated that they wanted to come back and they agreed to the airline and whoever brings them in."
Fijians who are dual passport holders or permanent residents of another country planning to repatriate for personal reasons are required to pay the cost of their 14-day quarantine.
The charges are directly payable to the hotels or other quarantine facilities where they stay.
SOURCE: FBC NEWS/PACNEWS