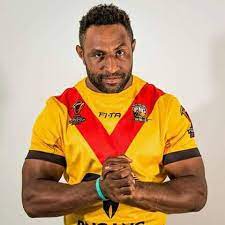 Papua New Guinea Kumuls centre Justin Olam has been ruled out of the Pacific Championship Bowl while McKenzie Yei and centre Rodrick Tai will miss the clash against Fiji Bati on Sunday due to injuries.
Kumuls coach Justin Holbrook has been forced into reshuffling his lineup dropping Castleford Tigers hooker Liam Horne to 18th man while the younger Judah Rimbu was retained as the utility on the bench.
While Yei is the only UK-based player who will miss the National Football Stadium fixture, Keven Appo and Wellington Albert will come off the bench as Edwin Ipape and Rhyse Martin start at hooker and second-row respectively.
With the availability of UK-based players, there is no room at this stage for Horne or Nixon Putt, who were both part of the 46-10 win over the Cook Islands in week one.
Holbrook said Olam was still recovering from a knee injury and could not get clearance from his club Melbourne Storm.
"McKenzie missed a few weeks at the back end of the season with Featherstone through injury and with the long flight from UK, he is not right yet so he's going to spend the week doing rehab and then we will reassess next week," Holbrook said.
"Rodrick picked up a knee injury in the last game and won't be available this week.
"Justin Olam hasn't recovered. The reason I named in the original 21-man squad was because we knew he wasn't going to be right for game one against the Cook Islands but that gave us two more weeks to see how he would recover because we had a week off.
"But he (Olam) is still unable to run as they (Storm medical staff) want it (injury) to settle down completely. I rang him after game one but he said 'look I haven't got clearance from the physio' which is understandable," said Holbrook, who is a former NRL first grade coach (Gold Coast Titans).
"But the reason we named him was to give him every chance to recover but it wasn't enough as he needs a couple weeks," said the Roosters assistant coach.
Holbrook said he had enough quality players and depth to cover for the injured players.
With Cook Islands' exit in the tournament, the Kumuls will face Bati twice with next week's Bowl final regarded as the significant title for the winner in the ranking and prospects for involvement in tier one tournaments. Holbrook said the UK-based players would need to prove themselves on Sunday in order to make a case for re-selection for the final in Port Moresby on Nov 4.
No captain has been named yet however it is understood that Rhyse Martin will take on the role with his deputy likely to be five-eighth Kyle Laybutt.
Kumuls: 1. Alex Johnston 2. Robert Derby 3. Zac Laybutt 4. Benji Kot 5. Nene Macdonald 6. Kyle Laybutt 7. Lachlan Lam 8. Epel Kapinias 9. Edwin Ipape 10. Valentine Richard 11. Rhyse Martin 12. Dan Russell 13. Jack de Belin; Interchange: 14. Judah Rimbu 15. Wellington Albert 16. Keven Appo 17. Jacob Alick 18. Liam Horne.
SOURCE: THE NATIONAL/PACNEWS