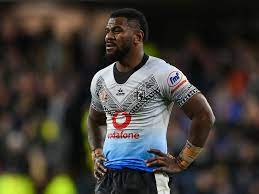 -After taking his Kumuls try tally from five to nine in the space of 40 minutes against Cook Islands, veteran flyer Nene Macdonald reckons he might have to go to another level again if he's to trump Bati powerhouse Maika Sivo.
The pair go head-to-head in Port Moresby on Sunday and 29-year-old Macdonald will look to outpoint and outscore the flying Fijian who is coming off a try and six tackle breaks in a win over Cook Islands.
A decade after launching his Test career with a try on debut against France at the 2013 World Cup, Macdonald remains a fan favourite with the passionate Kumuls fans who will be out in force on Sunday to see two world class backlines match motors.
"The Bati have a very stacked backline so it's a big challenge for us at the back," Macdonald told media on Tuesday.
"It's always an advantage playing here in PNG… the noise when you come out, the atmosphere, it helps you play better, helps you get that extra metre and push for your country.
"Even the other teams say how special the fan support is and every time I pull on the jersey it feels like the first time.
"That feeling I got when I first put the jersey on in 2013, I got very emotional and I was going to cry, and it's a special thing to play for my country.
"When we come back together it's like we never left each other.
"Seeing the growth of the Kumuls in the last 10 years is huge – back when I debuted we had a lot of talent but hardly anyone from outside the local Digicel Cup clubs improving their skills.
"I think if you want to get better you have to graduate. Digicel is a good competition, a good stepping stone but if you want to keep moving up you have to keep playing against better players.
"It's good to see guys playing for the Hunters [in Queensland Cup], going across to NRL teams and Super League teams, and they are only going to get better.2
Macdonald boasts nine tries in 14 Tests while Sivo has eight in nine appearances for Fiji, the flashy finishers set to light up the Santos National Football Stadium as they square off for the first time in their careers having never crossed paths at NRL or international level.
"Sivo is always a crowd favourite and he will be a good challenge for me. He'll be on my side with Waqa Blake so that will be a good challenge for me and my centre," Macdonald said.
"They are both NRL players and both play together at the Eels so we need to be on our game.
"I was happy with four tries [against Cooks] but I might have to score five next time," he said.
SOURCE: NRL/PACNEWS