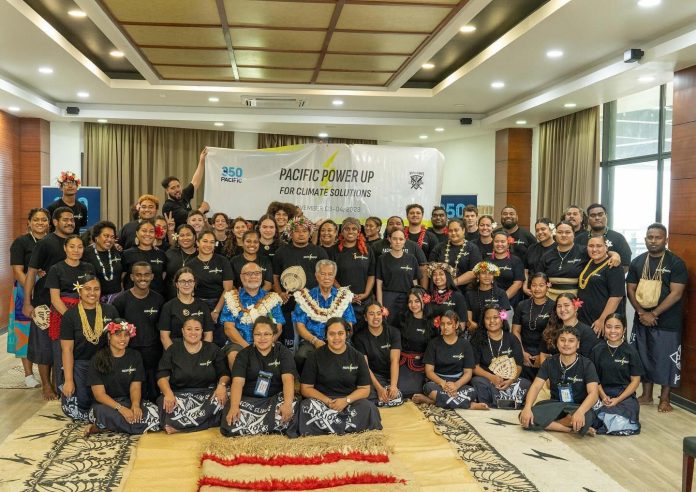 Over 60 Pacific youth activists presented their climate demands Wednesday to Pacific Islands Forum Secretary General, Henry Puna ahead of the global Power Up mobilisations on 3 – 04 November and the Pacific Islands Forum meeting in Rarotonga.
The Pacific Power Up Declaration calls for an endorsement of the Port Vila Call for a Fossil Fuel Free Pacific by all Pacific Island Forum governments, including Australia and New Zealand. It also specifically demands a swift scale-up of community-centred renewable energy, with guardrails in place to protect biodiversity, food and water security and the wellbeing of indigenous peoples.
These demands come on the heels of Australia's approval of four new coal mines, one new gas project, and the additional 25 fossil fuel projects awaiting approval by the federal government, all while the Pacific experiences intensifying climate disasters. As leaders prepare for both the PIF meeting and COP28 in the UAE, young Pacific islanders want to ensure their futures are safeguarded against the impacts of the climate crisis.
Okalani Mariner, Pacific Climate Warrior says, "The young people of the Pacific know that we need to urgently phase out coal, oil and gas if we are to protect our futures and keep the goal of 1.5 degrees alive. We also know that our people will still need to be able to power their homes and livelihoods. These past 3 days have seen us envisioning what this energy transition should look like for our islands, to make sure no one is left behind. We are understandably frustrated by the lack of climate ambition from countries like Australia in the lead up to PIFS and COP28, but we are also inspired by the resolve of our young people in ensuring we live to see the end of fossil fuels and the flourishing of community-centred renewable energy."
This 03 – 04 November, as fossil fuel companies publish another round of obscene billion-dollar profits, across the world, climate activists will take to the streets to demand a phase out of fossil fuels and a scale up of clean and fair renewable energy.
Joseph Sikulu, 350.org Pacific Managing Director says, "The Pacific cannot be left behind in the renewable energy revolution. We need to rapidly scale up renewable energy that gives energy access to all, particularly vulnerable communities, but also respects land, sea and Pacific community values. And those most responsible for this climate crisis must commit to phasing out fossil fuels and redirecting finance to the just transition, not only for themselves, but for countries on the frontlines of the climate crisis."
"Next week, the Pacific Climate Warriors will join thousands of others taking to the streets to demand a future beyond fossil fuel addiction. We will build a world powered by community-centred renewable energy, where the Pacific has the opportunity to thrive, said Sikulu.
SOURCE: 350.ORG/PACNEWS