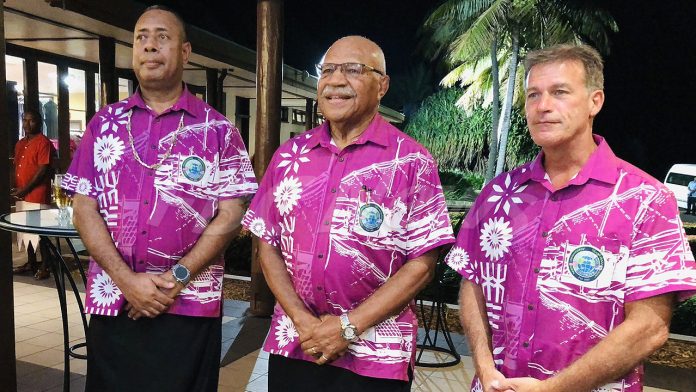 Fiji's Prime Minister Sitiveni Rabuka has announced that Fiji stands ready to provide assistance in relief efforts following the catastrophic wildfires that have ravaged Maui, Hawaii, claiming the lives of over 90 individuals.
Speaking at the opening of the 2023 Chiefs of Defence Conference in Natadola last night, Rabuka conveyed Fiji's solidarity with Hawaii and its willingness to aid in the ongoing relief operations.
The Prime Minister said that he has already alerted the Minister for Defence, the Minister for Finance and the Minister responsible for Disaster and preparedness regarding Fiji's potential involvement in providing assistance to Hawaii.
He expresses that Fiji is on standby to contribute to relief works if such assistance is deemed necessary.
"I do not know whether the commander has been given his warning order, but that was an instruction I gave out today, whether we until go or not, will depend on the need on the ground."
In a solemn moment before commencing his speech, Prime Minister Rabuka led the conference attendees in observing a moment of silence to honour the victims of the Maui wildfire.
Captain Kyle Raines, the Director of Public Affairs at the U.S Indo-Pacific Command, commends Fiji for its gracious offer of assistance.
While he emphasised that he couldn't speak for the state of Hawaii, Captain Raines affirms that emergency response efforts were actively underway, with close coordination between local authorities and federal agencies.
"I think when you have these people of people ties that we have amongst each other, that's what friends do for each other. We come together when a friend is in need. And so I certainly thank the prime minister and the people of Fiji for offering that assistance, whether or not what is required."
The wildfires in Maui have left a trail of destruction, devastating communities, and natural landscapes.
Fiji's gesture of solidarity reflects the strong bonds between nations in times of crisis.
The conference, attended by defence leaders from various nations, has provided a platform for the exchange of insights and strategies to address common security challenges.
SOURCE: FBC NEWS/PACNEWS