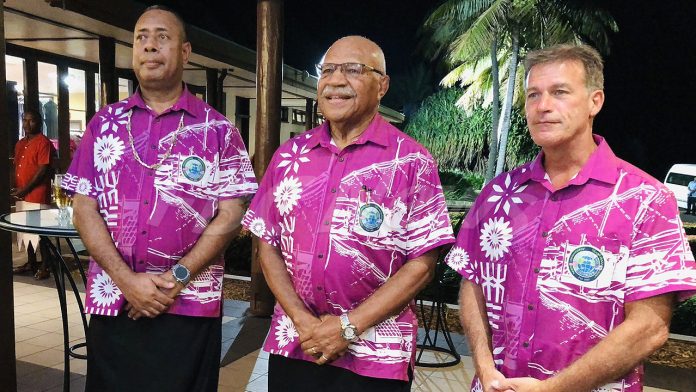 Fiji's Prime Minister Sitiveni Rabuka said the Chiefs of Defence from the Asia-Pacific region meeting provided an opportunity for participants to strengthen people to people relationships, share ideas, learn from each other and develop strategies that will build resilience in the face of common challenges.
"I have no doubt that the collective wisdom and experience gathered here will guide us towards a future that preserves the rules-based order, bolsters sovereignty, and upholds the ideals we hold dear," Prime Minister Rabuka said.
This year's Conference is based on the theme; 'Preserving the rules based order to enable sovereignty in an era of strategic competition in the Indo Pacific region' with this year's meeting co-hosted by the Commander of the Republic of Fiji Military Forces Major General Jone Kalouniwai and the Commander of the U.S Pacific Command (USINDOPACOM) Admiral John Aquilino.
"The theme of this meeting calls us to action, it urges us to safeguard the rules-based order, not just for our immediate interests but for future generations. We must seize this opportunity to adapt, to modernise and to forge new partnerships," PM Rabuka said.
"Together, we can create a stronger network of nations committed to upholding the principles that have steered us through tumultuous times.
"Together, let us stand as beacons of stability, guardians of freedom, and advocates for a world that embraces cooperation over conflict."
The Chiefs of Defence Conference is an annual conference of the chiefs of defenCe of the nations in the Indo-Asia-Pacific region.
These conferences bring together senior military leaders from regional nations to meet and discuss mutual security challenges, improve mutual relationships and foster security cooperation.
Thirty-three countries were invited to this year's Indo-Pacific Chiefs of Defence Meeting.
Meanwhile, Fiji'S Opposition leader Inia Seruiratu has given his view on the review of the security package that Fiji has with China.
Speaking to FBC News, Seruiratu said this arrangement is normal.
Earlier this year, Prime Minister Sitiveni Rabuka admitted that the Coalition Government is reviewing the security collaboration between the two countries.
In response, the Chinese Embassy urged Fiji to abandon ideological prejudice and view objectively the law enforcement and police cooperation between the two countries.
Former Minister for Defence and now Opposition Leader Inia Seruiratu is in agreement with the PM that a review is vital and that Fiji is still committed to the "One China Policy".
"Fiji is committed to the One China Policy", we do agree with that, and of course I have been asked the question as well about the review. Every now and then, that's normal in bilateral relations, where the parties agree to review the agreement that they have already agreed to earlier. That is a normal process."
Seruiratu said Fiji continues to benefit from its bilateral relationships with China.
He said that it does also benefit from partners like Australia and New Zealand, which is something Fiji appreciate as a developing country.
SOURCE: FIJI GOVT/FBC NEWS/PACNEWS