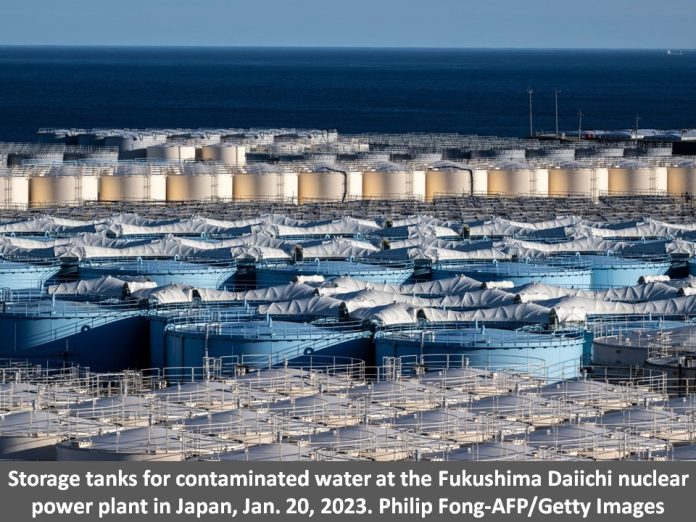 There are hopes an upcoming meeting will throw water on a growing fire surrounding the looming release of radioactive nuclear wastewater into the Pacific Ocean.
In an exclusive interview, Tokyo Electric Power Company (TEPCO) said it wants the world to know that the planned release of more than 1.3million tonnes of radioactive wastewater into the Pacific Ocean over around four decades will be safe.
The Government of Japan, Pacific Islands Forum (PIF) Secretary General Henry Puna and the Cook Islands Prime Minister Mark Brown, who is the incoming PIF Chair met in Japan Tuesday.
"The visit is in pursuit of our joint commitment at the PALM9 to safeguard our nations against nuclear contamination," Forum SG Puna said.
It comes just days after the President of the Federated States of Micronesia (FSM) said, "our country is no longer fearful or concerned about this issue".
Many PIF leaders and scientists maintain there is no scientific proof the operation will be safe, while Japan's narrative is, it is safe.
The waste at the centre of concern is from the Fukushima Daiichi Nuclear Power Station which was destroyed in the 9.0 magnitude 2011 earthquake and tsunami.
TEPCO Chief Officer for ALPS treated water management Junichi Matsumoto, who has been working for the company for almost 40 years, remembers that day vividly.
"There was a big shake, so I had to respond to that situation," Matsumoto said.
Since then the Japanese government has deemed it necessary to release the water into the ocean, "in order to steadily make progress in the decommissioning of Fukushima Daiichi Nuclear Power Station," he said.
A system called ALPS is to be used to filter the wastewater and reduce radioactivity.
TEPCO said it has "confidence" that ALPS has the ability to remove radio nuclides, despite a barrage of concerns.
"Yes, to the question whether output is going to function or work properly," Matsumoto said.
A meeting was held on 07 February 2023 where the Forum hopes it will be provided with sound scientific data.
So far, the Pacific Islands Forum (PIF) panel of experts who have been trying to independently verify the safety of the operation say they have not been sent data that proves it is safe.
Last month Puna said, "time is of the essence," following that interview a PIF Panel discussion was held where independent PIF experts voiced their frustrations and concerns.
At that meeting alarm bells were raised over discrepancies in the data provided.
Non-proliferation and high energy physics scientist Dr Ferenc Dalnoki-Veress is on the PIF expert panel that is assessing the viability of the plans.
The data they have received was a mess he said.
"We immediately noticed problems with the data that the panel has considered to be serious red flags.
"The panel has found that some of TEPCO's sample extraction has been inadequate, incomplete and at times inconsistent and even biased," Dalnoki-Veress said.
Because of this conclusion, the PIF panel of scientists believe there is not enough evidence for Japan to go ahead with its plans to release.
Leaving Pacific leaders with no option but to fight for the facts in order to protect their ocean.
"It's not just for us here us the Pacific, it's for mankind," Forum secretary general Henry Puna said as he thanked the experts for their work.
Puna has previously said PIF will not give up and could even cross Japan off 'dialogue partner' list.
"This hasn't been easy, because the reality is Japan has been a long-standing and very strong partner for us here in the Blue Pacific," Puna said.
Despite numerous meetings between the PIF and Japan, TEPCO has received an additional request from the PIF Secretariat, through the Japanese government for more information.
"Currently, we are preparing our response to the request and we understand the Japanese government is working on it as well," Matsumoto said in the lead up to the meeting.
Puna wants to be clear, PIF is not requesting an outright ban on the dumping.
"[We want] to be in a position where our experts can say: the release is harmless, you can go ahead, or there are some issues that we need further discussion," Puna said.
After weeks in the making TEPCO agreed to an interview with RNZ Pacific on the same day as the PIF panel discussion on the issue.
At the moment the wastewater is being stored in tanks.
It is to be moved to tanks specifically dedicated for measurement and confirmation, a TEPCO spokesperson said.
One of the sticking points for the PIF has been a lack of viable data for all radionuclides in the radioactive wastewater.
Matsumoto believes the frustrations raised by PIF experts do not add up because his team will 'definitely' measure the concentration of all radionuclides before discharge.
He puts much of the friction down to communication issues and misunderstandings.
"I presume that there is a misunderstanding because on one hand, we are saying that we are not measuring necessarily all the 64 radionuclides contained in the treated water currently stored in tank but on the other hand, we are also saying that we are going to definitely measure the 64 radionuclides before we release them into the ocean. So, there is a difference between the two here, but I think there is a misunderstanding," Matsumoto said.
The facility is not designed in such a way that treated water in the tanks will be directly released into the ocean.
"So, when water comes into this measurement tank, we are going to measure the concentration of all radionuclides including tritium in order to confirm levels are meeting national regulatory standards," he said.
He wanted to point out that the precautions go a step further, after the water is treated and is confirmed to meet national regulatory standards the wastewater will be further diluted with seawater.
"Therefore, we assume that for almost all radionuclides, their concentration level will be below the detection limit at the time of discharge," he said.
Like Pacific nations, Japan continues to suffer years on from nuclear disasters.
Matsumoto was asked about what he remembers about the 2011 earthquake which is the source of this quarrel in the first place.
"At the time of the earthquake and tsunami on the 11th of March in 2011, I was working at Kashiwazaki-Kariwa nuclear power station," he said.
That same year he was transferred to the Fukushima Daiichi Nuclear Power Plant accident response team.
In 2016 he was transferred to the Fukushima Daiichi decontamination and decommissioning engineering team.
"So, since that time I am 100 percent dedicated to the commissioning work," he said.
"If I may share with you briefly my personal view regarding the accidents that occurred 12 years ago. Firstly, we have caused extreme accidents of nuclear power plants through the meltdown of three units and in other words, we have not been able to prevent such a meltdown from happening.
"So, as a nuclear engineer, I am actually, I do have some regret, or I am mortified.
"As we have written in the report published in 2014, TEPCO actually had some opportunities to prevent this accident from happening. However, we have not been able to utilize those opportunities. I think that is a big lesson we have learned.
"Of course, when it comes to nuclear energy, there are different opinions. However, in view of energy security, and also in light of the recent situation emanating from Russia, I think nuclear energy is something we need, that is my opinion. So, we like to use the lesson that I shared with you earlier and we would like to make a better use of nuclear energy as an energy source," Matsumoto shared.
With nuclear disasters of the past front of mind across the Pacific, PIF leaders and experts say they will not let the current issue of whether or not releasing the treated nuclear waste from the 2011 disaster into their Pacific Ocean go until there is confidence it is safe to go ahead.
Tough conversations were expected to take place Tuesday, in the hope Japan will not only listen to Pacific nations but respect and implement their requests.
A firm release date has not yet been set.
"We will continue to ensure safety, disseminate information on decommissioning both domestically and internationally, and take measures against reputation damages.
"We are also aware that the Japanese government has continued to provide explanations politely to the PIF after the interview," Matsumoto said.
830 meters of the one-kilometre discharge tunnel has been completed.
"We will continue to put every effort into installing the facilities in the spring of 2023 as planned, while keeping safety as the top priority," he said.
SOURCE: RNZ PACIFIC/PACNEWS