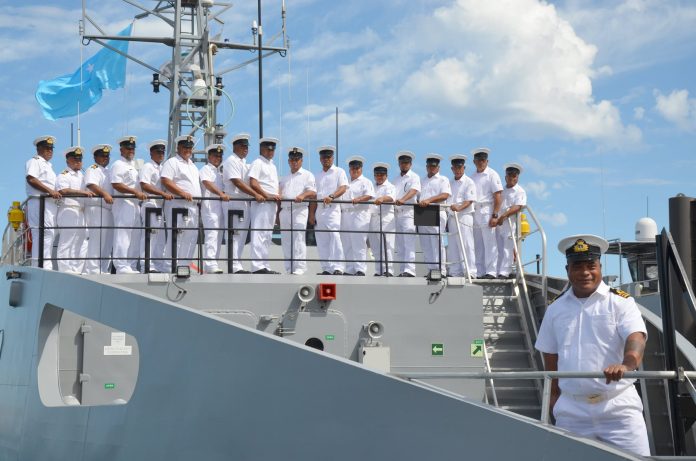 The Federated States of Micronesia (FSM) has received the first of two Guardian-class Patrol Boats, delivered through the Pacific Maritime Security Programme, at a handover ceremony Friday in Henderson, Western Australia.
President of the Federated States of Micronesia, President David Panuelo and Assistant Minister for Defence, Andrew Hastie welcomed the handover which speaks to the closeness of the relationship, shared values and a vision for the region.
"The people and Government of Australia are not only a partner of our nation, but also a close friend. I reaffirm our nation's commitment to our partnership with Australia and solicit Australia's continued efforts to promote Indo-Pacific peace, stability, and security," President Panuelo said.
"The FSS Tosiwo Nakayama, is bigger, faster, and a categorical improvement in every way over the previous Patrol Boats.
"Named after our first President of the FSM who advocated strongly for a united Micronesia, you have our Government's guarantee that we will use this sovereign asset of our nation to navigate our way towards a more peaceful and secure Pacific."
Assistant Minister for Defence, Hon Andrew Hastie said Australia is proud to continue to partner with the Federated States of Micronesia on maritime security priorities.
"Australia has a longstanding commitment to supporting our Pacific partners through the Pacific Maritime Security Programme, working together to address illegal fishing, transnational crime, and other maritime security challenges," Minister Hastie said.
"Tosiwo Nakayama will provide protection for the FSM'smarine ecosystems and fishing industry, and contribute to preserving a free and open Indo-Pacific.
"While the Tosiwo Nakayama crew has been preparing for this handover, the Royal Australian Navy vessel HMAS Melville was simultaneously supporting maritime surveillance efforts within FSM's Exclusive Economic Zone to detect and deter suspicious and illicit vessels."
President Panuelo was represented at the event by Commanding Officer of the Patrol Vessel LCDR Paulino Yangitesmal; and Australian Defence Force was represented by CDRE Ivan Ingham, Senior Officer Western Australia.
FSS Tosiwo Nakayama is the 14th of 21 vessels being delivered to 10 Pacific Island nations and Timor-Leste under the Programme and will be joined later this year by the FSM's second Guardian-class Patrol Boat.
SOURCE: ADF/PACNEWS