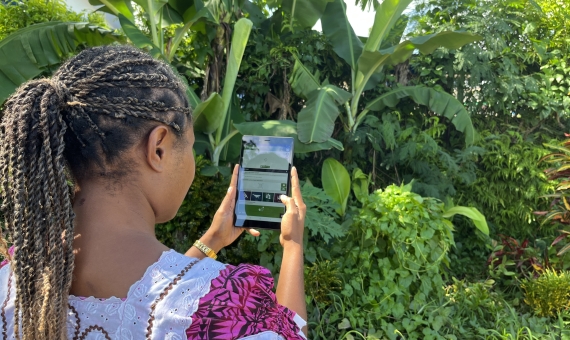 Vanuatu is currently testing a ground-breaking application that looks to provide a solution to data collection challenges faced by Pacific Island countries, particularly on species and how they interact with climate and act as traditional knowledge indicators for climate.
The Pacific Island nation is comprised of 80 islands stretched out over 1,300 kilometres across the central Pacific ocean. Travel to some of the outer islands to collect data is a challenge, and because the country's current observation and monitoring systems is in paper form, postage costs and return time delays are also issues from it.
The Vanuatu Klaemet Infomesen blong Redy, Adapt mo Protekt (VanKIRAP) Project in partnership with Earthwatch Australia, the Australian Bureau of Meteorology, and the Climate and Oceans Support Programme in the Pacific (COSPPac) have developed a mobile application as a potential solution to these challenges.
The Vanuatu Climate Watch app was developed similar to the Australian ClimateWatch app which was launched in 2009. The app will enable easy collection of data and observations of plants and animals and how they interact with the changes in climate.
Dr Lynda Chambers of the Australian Bureau of Meteorology introduced the app to participants from the Vanuatu Meteorology and Geohazards Division and other government departments such as Conservation and Forestry during a consultative workshop held in Port Vila.
Users of the app will be able to make observations by uploading pictures of species they come across that are already programmed into the app and pinpointing where it was taken.
"The app is currently in development and available for testing, so today's workshop is the perfect opportunity for these experts to trial it and give feedback on any changes that need to be made in order to fully fit Vanuatu's needs," Dr Chambers added.
The Climate Watch app is a Citizen Science initiative, meaning that it gets the public involved and engages communities in a meaningful way, enabling the collection of more data in more locations at less cost.
The need for more traditional knowledge data from within the Pacific region came about after the Intergovernmental Panel on Climate Change Assessment Report 4 was released in 2007, with very few studies into how species interact with climate in the Southern Hemisphere, and practically none in the Tropics.
"The policies that were coming out at the global level as a result of the AR4 were largely based on regions such as Europe and North America, which are vastly different to ours, with different climates, different species altogether."
This was the impetus for the development of the Australian Climate Watch app, to address the gap in knowledge of species in the Southern Hemisphere, and also the motivation behind the development of similar apps in Pacific Island countries.
The Climate Watch app will enable not only technical experts to record observations, but the public as well. They will be able to take photos of certain species of plants and animals that could be used as climate indicators and make their records available to agencies such as VMGD who can then use them for their observations.
It will have offline functionality so that people can still record their observations in areas with little or no mobile coverage. Their records will be saved, and once they reach an area with mobile connectivity, will be uploaded to the app.
"The app can also be used as an educational tool for schools and for the general public who download and use them. They can find out about the different species and how they can act as climate indicators, and also where they can be found." Dr Chambers added.
Director of Vanuatu's Department of Environment Protection and Conservation, Ms Touasi Tiwok, applauded the initiative, stating that the app will greatly aid Vanuatu's preparedness for natural disasters.
"The people in our communities see firsthand the behaviours of plants and animals when there is about to be an event such as a tropical cyclone. Through the Climate Watch app, these people will be able to record these observations and make this data available to our meteorology team so they can make the necessary decisions and issue the necessary warnings."
The Vanuatu Climate Watch app will be available for download on both Apple and Android mobile phones and currently available in English, with plans to develop a Bislama version.
SOURCE: SPREP/PACNEWS