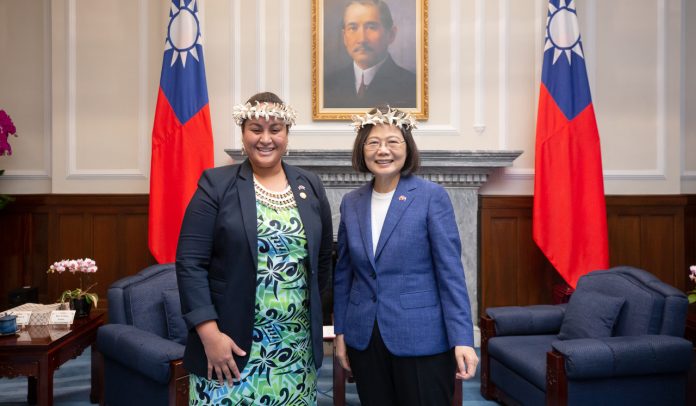 Marshall Islands Minister of Foreign Affairs and Trade Kitlang Kabua said Thursday that her country will continue to support Taiwan's bid to join the United Nations and other international organisations, and it "strongly condemns" any external intimidation of Taiwan that compromises regional and global peace and security.
Kabua, who is leading a delegation on a visit to Taiwan 12-18 April, made the comments during a meeting with President Tsai Ing-wen at the Presidential Office in Taipei.
"The Republic of China, Taiwan, is an important friend and ally of the Republic of the Marshall Islands," Kabua said. "Our leaders forged this relationship on shared values and democratic principles and respect for human rights."
The Marshallese foreign minister said her visit signified a strong relationship between the two countries and their shared desire to strengthen the ties, bilaterally and in an international context.
"I wish to assure you that the Republic of the Marshall Islands will remain a staunch ally and continue to voice support for Taiwan's inclusion in the United Nations and all other regional and international organisations," she said.
Kabua also commended President Tsai for her "steadfast leadership" in preserving democratic values in the face of external intimidation.
The Marshall Islands "strongly condemns" those intimidatory actions, as they compromise regional and global security and peace, Kabua said.
In turn, Tsai thanked Kabua and the Marshall Islands government for their continued support of Taiwan's international participation, noting that they have spoken up for Taiwan at several international forums, including the United Nations General Assembly and the World Health Assembly.
That vocal support has drawn international attention to Taiwan's cause, Tsai said.
In recent years, Taiwan and the Marshall Islands have deepened cooperation and achieved notable results in such areas as healthcare, agriculture and education, she said.
Tsai noted that the Taiwan-Marshall Islands Adaptation and Contingency Fund for Climate Change was announced last year, during a visit to Taiwan by Marshall Islands President David Kabua.
Under that fund, the two countries are now about to sign a memorandum of understanding to pursue sustainable development, Tsai said, adding that the MOU will be inked during the foreign minister's current visit.
In the area of agriculture, the Taiwan technical mission and the government of the Marshall Islands last May established a community farm on the island of Ebeye, which is expected to spur the development of the local farming sector, Tsai said.
Meanwhile, Taiwan has become one of the most popular study destinations for Marshallese students, Tsai said, adding that she knows Kitlang Kabua places special emphasis on education.
This year, 12 students from the Marshall Islands were awarded Taiwan scholarships, four more than last year, Tsai said.
Such programmes will help bolster bilateral exchanges and engagements, as the two allies continue their efforts to strengthen democracy, she said.
"We look forward to Taiwan and the Marshall Islands continuing to support each other on the international stage," Tsai said. "Together we will strengthen the resilience of global democracy and make greater contributions to the Indo-Pacific region," she said.
SOURCE: CENTRAL NEWS AGENCY/PACNEWS