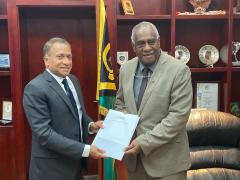 The UN Resident Coordinator to Vanuatu, Fiji, Solomon Islands, Tonga and Tuvalu, Sanaka Samarasinha, paid a courtesy visit to Vanuatu Prime Minister, Ishmael Kalsakau, Friday to officially handover US$1.7 million towards recovery efforts in Vanuatu.
The funding has come out of UN's Central Emergency Response Fund (CERF) and will be used to provide life-saving assistance to people in Vanuatu following twin Category-4 cyclones Judy and Kevin last month.
The funding will specifically support three key areas – food security, water and sanitation hygiene (WASH), and emergency shelter, targeted at the most vulnerable and most affected populations in Vanuatu.
"I'd like to congratulate the Government of Vanuatu, who have shown world class leadership in their response efforts, navigating through extremely difficult times and supporting their people, especially those who are most vulnerable. This funding will complement the government's efforts to continue to aid those most affected by last month's twin disasters," said Samarasinha.
This afternoon, the Pacific Humanitarian Team (PHT) will meet in Port Vila, jointly hosted by the UN and the Government of Vanuatu. It will be attended by ambassadors and high-level representatives, development partners, and representatives from civil society.
This meeting will be an important opportunity to discuss response progress, and highlight the work that remains to be done. The UN continues to support the people and Government of Vanuatu through these extremely difficult times.
SOURCE@ UNDP/PACNEWS