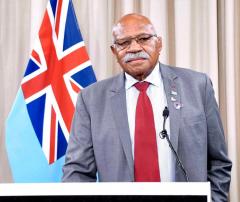 Fiji's Prime Minister Sitiveni Rabuka says at a time when Fiji is moving forward and big power rivalries are affecting the region, the need for greater unity among island countries is critical.
He said this was evident during the election campaign.
While highlighting the achievements of the first 100 days, Rabuka says this became much clearer to them when he became Prime Minister and Minister for Foreign Affairs and took over as Chair of the Pacific Islands Forum.
Rabuka said he made a special visit to Kiribati, which had relinquished its membership in the Pacific Island Forum.
"I had successful discussions with the President Taneti Maamau. Kiribati decided to return to the PIF. The over-riding principle is that a united PIF is better-placed to protect the interests of Members, and the region, than a divided Forum."
Rabuka said that unity was further enhanced at a virtual meeting with Micronesian leaders and a PIF Special Leaders Meeting in Nadi.
He said that it is also critical that we continue to engage with our bilateral and multilateral partners in our commitment to to ensure a sustainable, resilient future for all Fijians.
SOURCE: FBC NEWS/PACNEWS