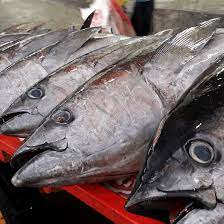 Fiji's Minister for Fisheries, Kalaveti Vodo Ravu, officially launched the inaugural Fiji Tuna Symposium Tuesday with a commitment to strengthen partnership for the sustainable development of Fiji's domestic tuna industry.
The two-day event, organised in partnership with the Ministry of Fisheries, Fiji Fishing Industry Association, Conservation International, and Worldwide Fund for Nature, brings together all stakeholders to think and plan using a triple bottom approach, i.e., environment, economic, and social lenses.
During his opening speech, Ravu acknowledged the partnership's innovation and to remove the "working in silos" between all stakeholders in the plight to collectively identify barriers and opportunities to further strengthen economic, environmental and social aspirations in the tuna industry.
"This partnership is now a proof of alliance between the Fiji Government, private sector, and civil society partners to sustainably use our unique yet vulnerable marine resources," said Ravu.
The Minister recognised Fiji's position as a Large Ocean State, and emphasised on the Pacific Fisheries leaders' endorsement of the Regional Roadmap for Sustainable Pacific Fisheries that puts a strong emphasis on increasing economic returns from Fisheries.
"Today, Fiji's domestic tuna industry contributes to an average of FJD$200 million (US$100 million) towards Fiji's Gross Domestic Production; directly employing over 16,000 Fijians, with around 1,677 people as crew on offshore fishing vessels and over 2000 employed in the processing plants" said Ravu.
The Fiji Fisheries 10-year Strategic Development Plan [2019-2029] commits to building a sustainable and profitable Tuna industry, to positioning Fiji as the "geography-of-choice to process fish commodities and identify sustainable markets for offshore non-tuna species."
"We all know that these are ambitious goals for our small island nation economy. However, this ambition becomes a bit more achievable with a collective effort from all key stakeholders and this inaugural symposium is a positive step in the right direction – this symposium is an opportunity to assess our progress, analyze challenges and secure opportunities to bring to fruition our 2029 goals."
New research shows that climate change will dramatically alter the geographical abundance of tuna stocks in Pacific waters, as the projections indicate that warming waters will cause the tuna stocks to migrate to areas beyond national jurisdiction, forcing the tuna to potentially move out of the Pacific Island Countries exclusive economic zones.
Susana Waqainabete-Tuisese, Senior Director, Pacific Region, Conservation International, is optimistic that the symposium "brings an opportunity to break down the silos to critically deliberate on this fisheries-climate change nexus; identification of issues and opportunities in Fiji's tuna industry; highlighting human rights dimensions, and identifying financing and investment needs for tuna fishing industry in Fiji."
"In every natural resource sector where economic, social, and environmental considerations are of paramount importance it is often seen that while socio economic issues are often the priority of policy interventions, discourse on the latter is often done independently," said Waiqanibete-Tuisese.
Adding to the conversation, Fiji Fishing Industry Association President, Radhika Kumar emphasised on the fishing industry being a vital part of Fiji's growing economy.
"The Fiji Fishing Industry Association has over 70 percent of its national fleet under Marine Stewardship Council and sustainably harvests, processes and exports albacore, yellowfin, and bigeye tuna. Furthermore, Fiji has also ratified the Port State Measures Agreement in 2019, to prevent, deter and eliminate illegal, unreported and unregulated (IUU) caught fish landing in our ports (Ministry of Fisheries, 2019)."
"While progress has been made, this symposium gives us the opportunity to strengthen our holistic partnership and pave the way forward for the domestic tuna industry in Fiji."
Dr Mark Drew, WWF-Pacific's Director added that WWF is committed to working with the Fiji government, the private sector and partners to ensure a robust, sustainable and gender inclusive offshore fisheries industry.
"Leading up to this symposium, scientific data, expert analysis and learnings from stakeholders across the region point to the urgency and that we are running out of time to address sustainable fisheries in Fiji and beyond. Actions are needed at a much greater scale and time sensitive if we are to ensure a healthy and prosperous future."
The Symposium is expected to generate a "Partnership Statement that will guide the development of a three-year roadmap aimed at addressing key issues elevated over these two days.'
SOURCE: CONSERVATION INTERNATIONAL/PACNEWS