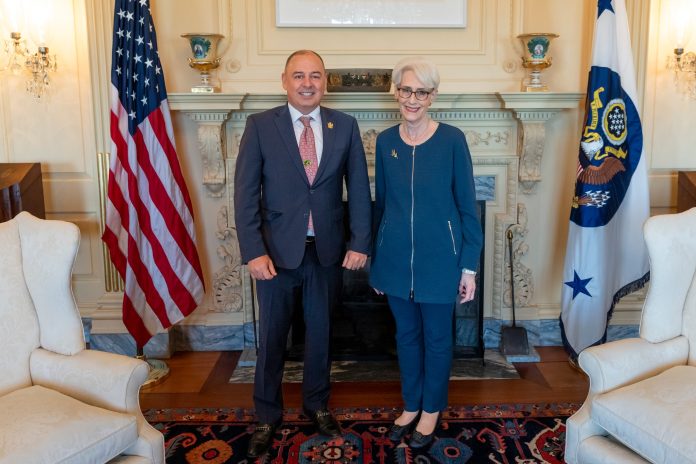 Cook Islands Prime Minister Mark Brown has said he has received assurances that the recent Australia-United Kingdom-United States (AUKUS) proposals will not contravene the Treaty of Rarotonga.
PM Brown, who undertook a series of high-level engagements while in Washington, last week, met several high-ranking U.S officials.
Among these were the Secretary of State Anthony Blinken and Deputy Secretary of State Wendy Sherman.
Recently, Brown has voiced his concern to Cook Islands News about the developing AUKUS alliance's proposal which will allow Australia to acquire up to eight nuclear-powered submarines.
However, in a statement issued on his return, PM Brown said: "Last week's discussions were also a welcome opportunity to share with U.S counterparts the Cook Islands perspectives on AUKUS and Partners of the Blue Pacific (PBP)".
The Cook Islands is a parent of the South Pacific Nuclear Free Zone Treaty (The Treaty of Rarotonga), which opened for signature on Hiroshima Day, 06 August, 1985, during the Cook Islands hosting of the then 16th South Pacific Forum.
"The Cook Islands has had a long-held and inter-generational commitment to a nuclear- free Pacific so I was reassured to receive from U.S counterparts last week assurances that AUKUS would uphold the Rarotonga Treaty," PM Brown said.
The Prime Minister in an interview with Cook Islands News a week ago said that he was concerned about the AUKUS arrangement.
"I think Pacific countries have concerns about increasing nuclear submarines throughout the region. We've all abided by the Treaty of Rarotonga, signed in 1985, which was about reducing the proliferation of nuclear weapons and nuclear vessels," PM Brown earlier said.
"But it is what it is. The Australian, United Kingdom and United States have entered into this arrangement. We've already seen it will lead to an escalation of tension, and we're not happy with that as a region.
"The whole intention of the Treaty of Rarotonga was to try to de-escalate what were at the time Cold War tensions between the major superpowers."
Meanwhile there were also talks in relation to the Cook Islands hosting of the Pacific Islands Forum (PIF) later this year in Washington, last week.
"On PBP (Partners in the Blue Pacific), my priority as Forum Chair is to continue to lead PIF development of the implementation plan to deliver on the 2050 Strategy and progress our Review of the Regional Architecture," PM Brown said.
Brown also held meetings with Deputy National Security Adviser of the United States Jon Finer, Deputy Assistant to the President and Indo-Pacific Coordinator for the National Security Council Dr Kurt Campbell and Under-Secretary for Economic Growth and Environment Jose Fernandez.
Discussions across all meetings included progressing formalisation of diplomatic relations between the two countries, economic growth and resilience strengthening prospects.
PM Brown said last week's discussions also built on exchanges held in Washington, D.C in September last year during the historic U.S-Pacific Leaders' Summit hosted by U.S President Joe Biden.
During the Leader's Summit, attended by Brown and PIF Leaders, President Biden delivered remarks outlining the U.S' elevated engagement with the Pacific and recognition of Cook Islands sovereignty for the first time.
"It is important that we continue to build on the momentum provided by the U.S.-Pacific Leaders' Summit last year," PM Brown said.
"The recognition of the Cook Islands' sovereignty, as announced by President Biden was historic, and my meetings last week affirmed our joint commitment to the early completion of necessary domestic processes that will enable an expanded bilateral programme and forward collaboration on regional matters that emanate from the Cook Islands assumption of PIF Chair responsibilities, said PM Brown.
SOURCE: COOK ISLANDS NEWS/PACNEWS