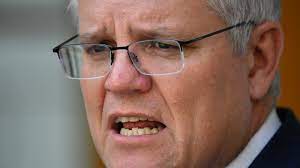 Australian Scott Morrison has rejected a claim by China's ambassador that Beijing's co-operation with Pacific island nations is not a threat to Australia.
Ambassador Xiao Qian told the Australian Financial Review the two nations had common interests that should outweigh their differences.
The prime minister countered, saying China's "interference" in the Pacific was of "great consequence".
"I don't want to give any amplification for the views of the Chinese government," he told reporters while campaigning in Launceston on Thursday.
""I support Australia's national interests, not the Chinese government's view of what national interests are, whether it be in Australia or across the Pacific."
The ambassador said while there would inevitably be some different positions and views between China and Australia, the two countries "should uphold the principle of mutual respect, treat each other objectively and fairly, respect each other's history, culture, philosophy, systems and development path".
"China's growing power should not be seen as a threat by Australia," Xiao wrote.
"A big and powerful country that pursues a friendly policy can definitely become a friendly and powerful partner.
"While growing and growing, China has always been committed to conducting friendly co-operation with countries around the world, including Australia."
Co-operation with the South Pacific was about "regional prosperity and stability", he wrote. "(It) will by no means threaten Australia's security."
Labor leader Anthony Albanese said China had changed its posture.
"They are more aggressive in the region," he told reporters in Gladstone.
"We need to, in the words of the Biden administration, have competition without catastrophe."
Reports suggest China's foreign minister is due to land in the Solomon Islands' capital Honiara as early as next week, putting his visit on the eve on the Australian election.
Defence Minister Peter Dutton has labelled the timing "provocative", but 60 per cent of Australians think the government needs to continue to build strong connections and ties with China, according to a new survey.
Three in four Australians expressed misgivings about the bilateral relationship and more than half of Australians see the potential benefit in a China-Australia link, the Australia-China Relations Institute poll revealed.
Mistrust of the Chinese government was higher in voters over 55 (81 percent) and Liberal-National voters (83 percent).
Only a third think the government is managing the relationship well, compared to more than 40 per cent disagreeing with how it is being handled.
But 60 percent agree with the harder line the coalition government is taking against Beijing.
ANU Chancellor and former foreign minister Julie Bishop says Australian discourse has moved away from maintaining strong bilateral relationships with both China and the United States.
"There was a time when both sides of politics would say it's not a choice between the U.S and China – we don't have to choose and neither will make us choose if we're able to manage the bipartisan relationships effectively," she told an ANU event.
"That's what's missing now. That belief that you can manage these very challenging relationships. And you don't have to choose to the extent that it appears we have done."
Bishop said the trilateral AUKUS security agreement between Australia, the United Kingdom and the U.S was the most significant shift in the country's foreign policy position since Chinese relations deteriorated.
"It was obviously a deliberate foreign policy direction to envelop Australia's foreign policy within the U.S, and to a lesser extent UK, at a time when our focus was certainly not on re-establishing a relationship with China," she said.
"There is no diplomatic connection with China at present. There has been a significant change in the last two years," she said.
SOURCE: AAP/PACNEWS