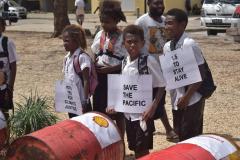 Regional Ministers and officials attending the 2nd Pacific Ministerial Dialogue On Pathways for the Global Just Transition Away from Fossil Fuels were Thursday given a demonstration of what the future of the Pacific could look like should leaders fail to find renewable alternatives to the use of fossil fuel.
Organised by the Vanuatu Climate Action Network, the community action programme showed children re-enacting drowning in the sea if the world fails to cut emissions by half in 2030 to stay in reach of 1.5 Degrees Celsius.
The Ministerial Dialogue which is being organised on the back of Severe Tropical Cyclone Judy and Severe Tropical Cyclone Kevin that made landfall in Vanuatu within 48 hours of each other is evidence of the increase in extreme weather events globally.
However, shifting from dependence on fossil fuel energy will be challenging.
"Fiji depends heavily on imported fossil fuels. This results in high energy prices as well as having a negative impact on the nation's energy security. In 2016 Fuel imports accounted for 16 percent of Fiji's total national import bill (US$346 million).Most of this fuel, mainly gasoline, oil and aviation turbine fuel, is consumed by the transport sector. Fiji's land transport, maritime, and aviation sectors are also heavily dependent on fossil fuels," said Sakiusa Tubuna, the Assistant Minister, Office of the Prime Minister.
At COP27 several key fossil fuel supply and just transition initiatives were highlighted including the call for a Fossil Fuel Non Proliferation Treaty, formally endorsed by the Governments of Vanuatu and Tuvalu, and the Beyond Oil and Gas Alliance (BOGA) an international alliance of governments and stakeholders working together to facilitate the managed phase-out of oil and gas production.
"Fiji's tourism sector is a highly dependent on fossil fuels for inter-island logistics, transportation of guests, and electricity generation for hotels. Inter-island marine transport and Fiji's fisheries industry is highly dependent on 2 and 4-stroke outboard engines and large ferries and barges with diesel engines.
"However, with our transition into electrical vehicles, hybrids, and renewable technologies in line to our 2030 and 2050 net zero emissions target, a lot of investment is being centered towards renewable energy technology such as solar, and hydropower for energy generation. This also include energy efficiency and efficacy practices and solar hybrid diesel generators to shift away from fossil fuels," Tubuna said.
SOURCE: FIJI GOVT/PACNEWS