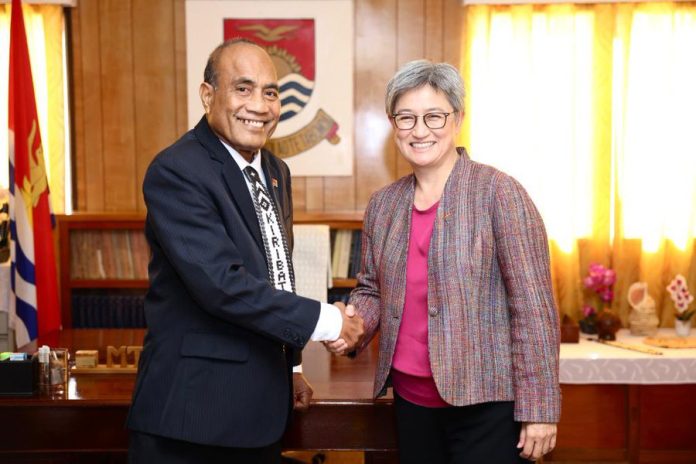 Australia has taken a significant step in countering China's growing influence in the Pacific by signing an important agreement with Kiribati.
Australia will scale up security and economic co-operation with the small island nation after Foreign Affairs Minister Penny Wong signed a "nurturing the partnership" Memorandum of Understanding (MoU) with President Taneti Maamau.
it comes after Beijing has pushed in recent years to secure security deals with a host of Pacific Island nations – a move which triggered widespread concern in Canberra over fears Chinese military bases could begin to pop up on Australia's doorstep.
Chinese political expert Wen-Ti Sung at the Australian National University told Yahoo News Australia the new deal "certainly smells like" a direct measure to counter China in the region.
""The U.S and Australia share security concerns in keeping China's military influence outside of the strategically placed Pacific Islands that connect Australia to the United States," he said.
It comes after Kiribati broke off diplomatic ties with Taiwan in 2019, which was followed by news China was to invest in the country by upgrading an airstrip in Kiribati, which sits halfway between Fiji and Hawaii.
China's desire to reunify democratic island state Taiwan has fuelled U.S-China tensions, with fears growing of military conflict in the region, placing increased strategic importance on nations located in the Pacific.
Wen-Ti noted Australia and the U.S's desire to work with Taiwan to increase its development aid offerings in the region in a bid to "re-attract" Kiribati.
The new agreement includes upgrading the Kanton wharf while a second patrol boat will be provided by Australia in an effort to increase maritime security.
"We hope that the MoU that we've just signed will provide a significant leg‑up to future areas of co-operation," Maamau said.
Senator Wong said the two nations' security, prosperity and resilience were "intertwined".
Tensions were strained between Canberra, Wellington and Tarawa when Australian and New Zealand judges in the Pacific nation were stood down, and the rule of law was effectively suspended with no court resource available to challenge government decisions.
The appeals court quashed the government's attempt to deport Australian judge David Lambourne.
The attorney-general was then installed as the nation's top judge after the New Zealand chief justice was stood down after quashing the deportation order.
Both Senator Wong and Mr Maamau will be attending the Pacific Islands Forum leaders meeting in Fiji.
SOURCE: AAP/PACNEWS