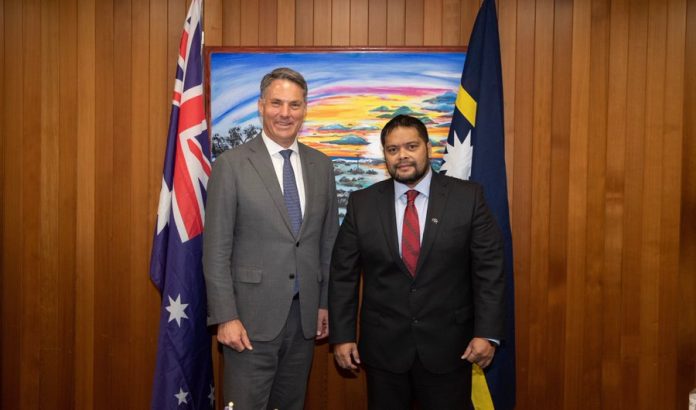 -Australian deputy prime minister, Richard Marles, has visited Nauru on his way from Hawaii where he had met with Japan's defence minister and the U.S defence secretary.
Marles, who is also defence minister, said he had met with Nauru's newly elected president, Russ Kun.
"President Kun and I discussed emerging priorities, challenges, and our common goals for a stable, sovereign, and resilient Pacific.
"I sincerely thank the government and people of Nauru for their generous hospitality.
"It was an honour to meet newly elected president Kun and his ministerial team. These engagements really drive home how all countries have a role to play in the international system to support prosperity and security," he said in a statement.
Australia's Deputy Prime Minister Richard Marles arrived in Nauru Monday to pay a courtesy call on newly elected President Russ Kun and members of cabinet.
Marles was greeted on arrival by Deputy Minister for Foreign Affairs Asterio Appi before proceeding to a closed meeting with President Kun, Finance Minister Martin Hunt and Appi at the government office.
The Deputy PM congratulated the President and the new government on their recent victory in the general elections.
President Kun thanked Australia for its "crucial and vital assistance and support of $1.4 million (US$912,000) towards Nauru's efforts in keeping Nauru COVID-free for a period of two years," and acknowledged Australia's goal to engage the Pacific as its primary workforce in Australia by introducing the Pacific Engagement System.
President Kun also expressed the government's appreciation for Australia's support of $40 million (US$26 million) towards the airport runway resurfacing project; the continued support of the Nauru Trust Fund; and extended Nauru's support to Australia in its bid to host the UNFCCC Conference of Parties.
The delegation also paid courtesy calls on Speaker of Parliament Marcus Stephen and Deputy Speaker Lionel Aingimea.
The Australian delegation were then taken on tours of the sports complex, the Nauru Port and the site of the Higher Ground Initiative, seeing first-hand the progress being made through the joint collaboration of Nauru's development partners, including the Australian Government.
SOURCE: THE GUARDIAN/PAURU GOVT/PACNEWS