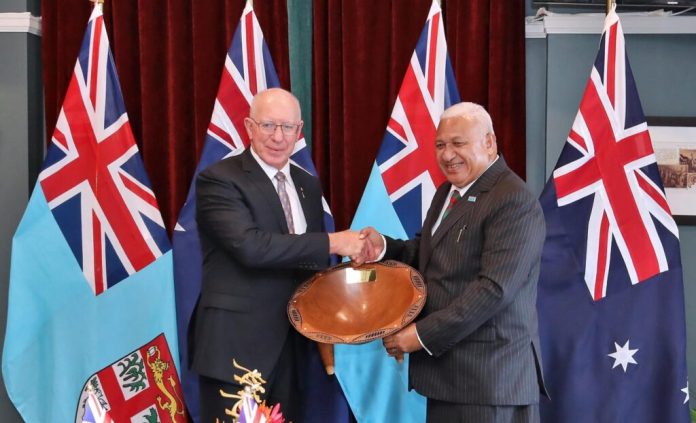 Fijian Prime Minister Voreqe Bainimarama Tuesday received a courtesy call from Governor-General of the Commonwealth of Australia, David Hurley.
Prime Minister Bainimarama said that Fiji is proud to host this State visit, the first state visit since the re-opening of Fiji's international borders, and it reaffirms Fiji-Australia's strong friendship and Vuvale Partnership.
The Prime Minister expressed the Fijian Government's appreciation to Australia for supporting Fiji in this time of great need, especially the assistance that Australia has provided towards Fiji's national response to COVID-19, through provisions of life saving vaccines and social support programmes, which had enabled Fiji to progress steadily into a recovery phase.
He reaffirmed the Fijian Government's commitment to work closely with Australia in addressing common challenges, while maximising opportunities for achieving resilient and sustainable recovery for Fiji and the region.
The Prime Minister acknowledged the two nations' shared aspirations for climate action and ocean conservation, with assurances for continued partnership in climate and disaster resilience.
Bainimarama expressed appreciation for Australia's assistance towards Fiji's rebuilding efforts and humanitarian support provided after natural disasters such as Tropical Cyclones Yasa and Ana.
He said that Fiji is grateful for Australia's assistance in the recently commissioned Black Rock camp in Nadi, which is a demonstration of Australia's commitment to the advancement of regional defence and security, with opportunities for deeper engagement in humanitarian services and capacity building in peacekeeping.
Fiji looks forward to the launch of the new Maritime Essential Service Centre (MESC), which is yet another timely assistance by Australia, and the new facility will significantly enhance Fiji and the region's maritime capabilities.
In his capacity as the Chair of the Pacific Islands Forum, Prime Minister Bainimarama thanked Australia for its support to the Forum, and he took the opportunity to brief the Governor-General on the key plans and priorities of the Forum.
Bainimarama conveyed the Fijian Government's best wishes to Governor-General Hurley and Linda Hurley, as they visit Fiji, especially in Vanua Levu.
In response, Governor-General Hurley thanked Prime Minister Bainimarama for the warm hospitality accorded to him and his wife Hurley upon their arrival to Fiji Monday night.
"While the past two years have thrown up unprecedented challenges, as vuvale, we have pulled together."
"I congratulate the Government of Fiji for leading a swift and effective response to COVID-19."
"I am proud that Australia was able to step up and support your health response, and that we are now seeing Australian tourists returning to Fiji, and Fiji's economy on a trajectory for recovery."
"Our Vuvale Partnership continues to provide a platform for elevated cooperation, consultation, and friendship between our two nations as we work together with the common goal of building a Pacific region that is secure, stable, and prosperous."
"Linda and I are delighted to be in Fiji and to have the opportunity to spend time with the community and further strengthen our close connection," Governor-General Hurley said.
Meanwhile, Governor-General David John Hurley, and Linda Hurley, opened the new Fiji Navy RFNS Stanley Brown Wharf and Gymnasium Tuesday.
The Governor-General said the completion of the wharf is a significant milestone in the Australia-Fiji vuvale relationship, for the Navy of Fiji, and for the nation.
"Fiji's leadership in the maritime domain is impressive and testament to your leadership in the region. As island nations, we know that maritime security is critical to the safety and security of our region," he said.
Minister for Defence, National Security, and Policing, Inia Seruiratu, said that Fiji and Australia equally share and value the ocean and its natural resources.
"The porous nature of our borders, together with isolated islands, expose our vulnerability to unprecedented maritime threats. The provision of the Guardian Patrol Boats and the upgrading of the Stanley Brown Wharf will significantly reaffirm our posture in the maritime domain," said the Minister.
SOURCE: FIJI GOVT/PACNEWS