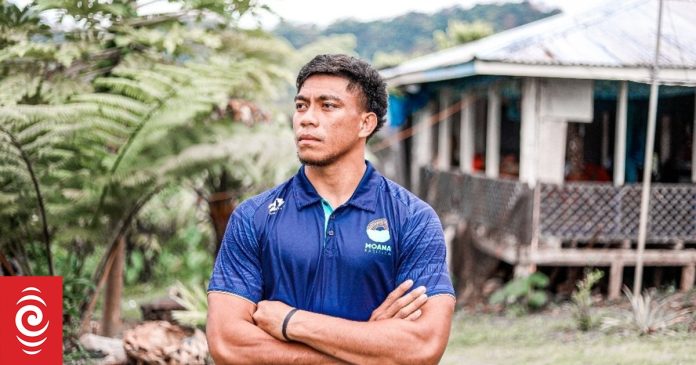 A year wiser and no longer rookies, Moana Pasifika are realistically expecting to finish higher up in Super Rugby Pacific 2023.
The Pacific team finished bottom of the table in their debut season in 2022 with two wins – against the Hurricanes (24-19) and the Brumbies (32-22) against 12 defeats. Many of their earlier matches were postponed due to covid-19, both within their own squad and their opponents'.
As part of the build-up to the new campaign, they played a pre-season match at the weekend against the Chiefs, going down 48-7.
They have one more pre-season game, against the Highlanders in Queenstown on Friday, before beginning the competition proper.
That will be a much-anticipated regional match-up against Fiji Drua at Mt Smart Stadium, Auckland on Saturday, February 25.
Ambition is high within the camp and expectations have been raised.
"We will try to make the playoffs this year, that is the goal for us," coach Aaron Mauger told RNZ Pacific.
In 2022, the Drua won the battle of the new Pacific teams, 34-19 in Sydney.
Moana Pasifika co-captain Christian Leali'fano said they won't be reflecting on that result as they face their regional rivals.
"Last year's gone, we wouldn't be looking at avenging that loss this year. But I think it is going to be a hell of an event and we're excited to bring our Pacific flavour to Aotearoa. It should be a really good game," he said.
Out of the 39 players Moana Pasifika have named for 2023 season, there are 26 internationals with rugby experience for Samoa, Tonga and the Cook Islands, as well as two Wallaby veterans in Leali'fano and prop Sekope Kepu who is currently injured.
Among the five new signings are 23-year-old loose forward Miracle Fai'ilagi who was spotted by coaches Aaron Mauger and Leota Filo Tiatia at the World Rugby Pacific Combine event in Fiji.
Coming from a land of song (pese) and prayer (lotu) he was indeed a miracle pick being discovered in Samoa.
"That was awesome, young Miracle being picked from Samoa, that is what our team is made for, giving pathways for our people from the islands," said Leali'fano of the 2-metre, 103kg blindside flanker.
"He is going to inspire the next generation of players. He has certainly got the stature and size, he is tall and rangy, a big physical guy and I'm really enjoying what he is bringing from the village to a high performance set up.
"He has taken the opportunity with both hands and I'm loving having him in the squad," Leali'fano said.
Aaron Mauger said Fai'ilagi is on a steep learning curve.
"He has a great skill set, he is an athlete he's got a great engine on him, he's knocking on the door for selection.
"He is still learning and far from the finished product and he has just had his first game and he has quite bit of work to do. But all the raw talent is there," Mauger said.
"No, we weren't surprised by him when we saw him in the Combine five months ago, and we've seen him grow in the last couple of months.
"He's going on a upward trend and he is going to be a force."
The young man seemed overwhelmed but very determined in an interview with NZRugby.
"It was pretty hard to accept that, leaving them behind," he said of leaving family and friends in Samoa.
"But you know, you've got to do this for them. I'm doing this for them, so I have to be strong," he said as he entered a camp where he will find the culture of (Tautua) – service to a cause or family, very much part of Moana Pasifika who will again be led by Kepu and Leia'lifano.
As well as Fai'ilagi, Moana have rewarded another five promising players with pre-season training contracts.
Four other players have earned Super rugby contracts among them Manu Samoa five eighth D'Angelo Leuila who impressed when he turned out for Waikato in the National Provincial Competition (NPC) last year.
"D'Angelo spent some time with us last year and we set him some challenges around earning a full contract and he rose to the challenges with yet another outstanding NPC season," said Mauger.
"He's an incredibly strong ball carrier, has a strong kicking game and sees space really well.
Dunedin-based forward Abraham Pole, who came on as a permanent injury replacement and played nine matches in 2022, was also given a contract, as have lock Mahonri Ngakuru and Michael Curry.
Christian Leali'fano is keen to go on playing as a pioneer for Moana Pasifika and help the younger players.
Having scored 1000 points in Super Rugby last year his ambition is to win more games this year.
"Definitely to win more games as long as I'm helping our team and we're ambitious and looking to make the finals. Anything is possible."
He was expecting much the same from Fiji Drua and said they saw their pre-season game against the Melbourne Rebels which Drua won 24-0.
"We saw their hit out against the Rebels, they're a really physical team with a lot of firepower," said Leali'fano.
"They will continue to grow as we have, they'll be an exciting team but we'll try to win on our home track."
He said covid-19 had disrupted preparations last year.
"Where do I start? We played six games in 21-days and had players come in halfway through the season. We had so much disruption so we are happier to get a smooth run now even though we had floods and a cyclone.
"We've been through it all and we are quite capable now of being able to adapt."
He felt Moana Pasifika would be better for the experience of last year.
"Absolutely, we will be better for having a season under our belts."
Moana Pasifika Super Rugby Pacific 2023 Squad
(Name, Moana Pasifika caps, village and/or iwi).
Forwards
Abraham Pole** (9) – Lapaha, Fua'amotu (Tongatapu) Funga Fonua ('Eua) & Ha'apai
Alamanda Motuga (8) – Sataoa & Sa'anapu (Samoa)
Alex McRobbie (11) – Avatele (Niue) & Ngāpuhi, Ngāti Whātua (Aotearoa)
Chris Apoua (5) – Salamumu & Fasito'outa (Samoa)
Ezekiel Lindenmuth (13) – Manono, Vaimoso & Moto'otua (Samoa)
Isi Tu'ungafasi* – Kolofo'ou & Kanokupolu (Tongatapu) (Tonga)
Jack Lam (6) – Gataivai & Malie (Samoa)
Joe 'Apikotoa (11) – Fasi-moe-afi (Tongatapu) (Tonga).
Lotu Inisi (1) – Longoteme (Tongatapu) & Fangale'ounga (Ha'apai) (Tonga) & Falelatai (Samoa)
Luteru Tolai (8) – Gagaifo Lefaga (Samoa) & Titikaveka, Rarotonga & Aitutaki (Cook Islands)
Mahonri Ngakuru** (5) – Ngāpuhi
Michael Curry (8)** – Kaufusi, Fa'atoia & Vaoala (Samoa)
Mike McKee (2) – Titikaveka, Rarotonga (Cook Islands)
Miracle Fai'ilagi* – Vailele & Uafato (Samoa)
Penitoa Finau (4) – Leimatu'a, Falevai (Vava'u) Kanokupolu & Kolovai (Tongatapu) (Tonga)
Ray Niuia (8) – Saipipi & Sa'anapu (Samoa)
Samiuela Moli (11) – Te'ekiu (Tongatapu) & Leimatu'a (Vava'u) (Tonga)
Samuel Slade (9) – Sapunaoa, Vailoa & Palauli (Samoa)
Sekope Kepu (10) – Leimatu'a (Vava'u) & Niuafo'ou (Tonga)
Sione Tu'ipulotu (10) – Kolofo'ou, Talafo'ou, Longolongo (Tongatapu) O'ua (Ha'apai) (Tonga)
Solomone Funaki (10) – Fanga-'o-Pilolevu (Tongatapu) & Pangai (Ha'apai) (Tonga)
Taukiha'amea Koloamatangi (6) – Pea & Ha'avakatolo (Tongatapu) (Tonga)
Backs
Anzelo Tuitavuki (3) – Angaha ('Eua) Kolomotu'a, Falaleu (Vava'u) & Niuafo'ou (Tongatapu) (Tonga)
Christian Leali'ifano (11) – Magiagi, Letogo & Le'auva'a (Samoa)
D'Angelo Leuila (1)** – Gataivai & Fagali'i (Samoa) & Atahu (Tokelau)
Danny Toala (9) – Faleasi'u & Lotofaga (Samoa)
Ereatara Enari – Nofoali'i & Vaiala (Samoa) & Rongowhakaata & Te Aitanga A Māhaka (Aotearoa)
Fine Inisi (9) – Longoteme (Tongatapu) & Fangale'ounga (Ha'apai) (Tonga) & Falelatai (Samoa)
Henry Taefu (8) – Samatau & Falelatai (Samoa)
Jonathan Taumateine (10) – Nofoali'i & Satapuala (Samoa)
Levi Aumua (9) – Afega & Safa'atoa Lefaga (Samoa) & Tailevu (Fiji)
Lincoln McClutchie (12) – Ngāti Porou (Aotearoa)
Lolagi Visinia (4) – Afega & Safa'atoa Lefaga (Samoa)
Manu Paea (4) – Pelehake, Maufanga (Tongatapu) & Lotofoa (Ha'apai) (Tonga)
Neria Foma'i (5) – Lepuia'i Manono Tai & Magiagi (Samoa)
Tima Fainga'anuku (9) – Tongoleleka (Ha'apai), Tufuvai ('Eua), Taunga (Vava'u) & Niuatoputapu (Tonga)
Timoci Tavatavanawai (8) – Naikawaga, Namara & Tailevu (Fiji)
Tomasi Alosio (3) – Levi Saleimoa & Falefa (Samoa)
William Havili (11) – Sopu Kolomatu'a (Tonga)
* denotes uncapped player
** denotes first Super Rugby Contract
The following players will be joining Moana Pasifika from the World Rugby Pacific Combine on pre-season training contracts:
Joe Perez (Samoa)
Faletoi Peni (Samoa)
Semisi Paea (Tonga)
Frank Mafi (Tonga)
Alosio Moa (Tonga).
SOURCE: RNZ PACIFIC/PACNEWS