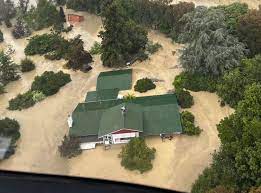 New Zealand's climate change minister has made a furious speech excoriating parliament for lost decades of "bickering" over the climate crisis, as Cyclone Gabrielle devastates the country.
"As I stand here today, I struggle to find words to express what I am thinking and feeling about this particular crisis," James Shaw told parliament on Tuesday.
"I don't think I've ever felt as sad or as angry about the lost decades that we spent bickering and arguing about whether climate change was real or not, whether it was caused by humans or not, whether it was bad or not, whether we should do something about it or not, because it is clearly here now, and if we do not act, it will get worse."
New Zealand is in a national state of emergency as it continues to be battered by the cyclone, which has caused widespread flooding and enormous destruction across the North Island. It is the third national emergency to be declared in the country's history.
The scale of damage is not yet known, with entire regions cut off from road access, electricity and mobile networks, neighbourhoods submerged by flood waters and landslides destroying homes and state highways.
Shaw, who is co-leader of the Green party, attributed the scale of the disaster to the climate crisis, saying: "There will be people who say it's 'too soon' to talk about these things … but we are standing in it right now. This is a climate change-related event. The severity of it, of course, made worse by the fact that our global temperatures have already increased by 1.1 degrees.
"We need to stop making excuses for inaction. We cannot put our heads in the sand when the beach is flooding. We must act now."
Scientists have long predicted that global heating would cause more frequent and intense weather events, including stronger storms and heavier, more sporadic rainfall. New Zealand's North Island has experienced extraordinarily heavy rains this
The cyclone comes just two weeks after record rainfall caused devastating flooding in Auckland and Northland, damaging thousands of homes and killing four. At the time, the flood was named the most destructive climate-related event in New Zealand's history.
The devastation from Cyclone Gabrielle is expected to overtake that.
"Just when we thought we had had our worst climate-related disaster in this country only two weeks ago, we are facing an even more significant challenge," Shaw said.
Quoting Winston Churchill, he said: "The era of procrastination, of half measures, of soothing and baffling expedience of delays is coming to its close. In its place we are entering a period of consequences."
In an interview with the Guardian, Shaw said he had spoken to New Zealand's prime minister and finance minister about action that could allow those receiving insurance payments to rebuild their homes to relocate elsewhere instead.
"Some of those houses are in places where it's a bad idea to have a house," he said, referring to the "tens of thousands" of New Zealand homes built on flood plains or erosion-prone coastlines.
"There are decisions that we could make that I think would lead to longer term resilience and a more adaptive response that if we don't make them, you'll probably just get a reversion to the status quo," said Shaw.
But he cautioned against a shift away from reducing emissions in order to foot the bill for dealing with the effects of the climate crisis.
"There will be a certain crowd who say … let's give up on stopping climate change and its focus entirely on responding to the effects of climate change and I cannot state enough what a catastrophic mistake that would be," Shaw said. "Because every tenth of a degree of warming increases the frequency and the severity of these events.".
SOURCE: THE GUARDIAN/PACNEWS