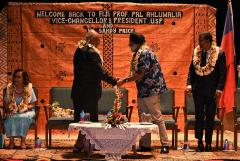 Staff and students of the University of the South Pacific (USP) in Fiji welcomed Vice-Chancellor and President of USP, Professor Pal Ahluwalia at Laucala campus on Tuesday.
The Vice-Chancellor and his wife returned to the country last Friday after their prohibition order was lifted by Prime Minister Sitiveni Rabuka following the formation of the coalition government.
Professor Ahluwalia said it has been exactly 107 weeks since they were deported, and being able to return is a relief as he is focused on the functioning of the regional institution.
He thanked Rabuka for approving their return, adding that the dark days for USP are now behind them.
"There were days when I would be told that our librarians and president of the union had been picked up and were at CID headquarters, and our student leaders had been picked up and were at CID, and they were saying that they supported me." "We will never want to return to those dark days, and we don't have to."
Professor Ahluwalia said the brightest day for the Pacific has arrived with Fiji's new Prime Minister.
In his address, Prime Minister Sitiveni Rabuka assured the government's support for USP.
Rabuka said the Coalition Government is committed to paying what is owed to the regional university.
Rabuka acknowledged the one vote made in parliament to make him Prime Minister which has allowed him to reverse some decisions made by the Bainimarama administration.
"The power of that one vote has allowed Fiji to say to Professor Pal Ahluwalia, come home."
Rabuka further stated that it was the power of one vote that has also now seen Kiribati return to the Pacific Islands Forum.
He said that the one vote is what he will use to unite the region, and this has started at the University of the South Pacific.
SOURCE: FBC NEWS/PACNEWS