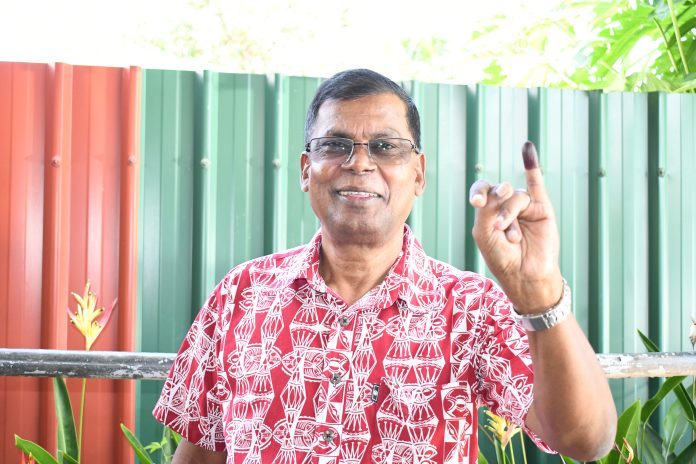 National Federation Party leader Biman Prasad says they will monitor the counting process of the 2022 General Election to ensure the results are credible.
"We will monitor the counting and the tallying process, and the final result to ensure it is transparent so that we feel confident that what comes out at the end of the day is credible," Prasad told PACNEWS.
He added the election campaign had been long and exhausting under strict rules that were either punitive or attracted hefty fines.
"We mounted a very good campaign, there was an overwhelming response from the people. A large percentage of people were ready to embrace us," he added.
During the campaign, Prasad said they were able to hear firsthand of the challenges on the ground such as high food prices, lack of jobs, water problems or challenges in agriculture such as sugar cane farming.
"It was a great campaign, of course we now leave it to the people. Our partnership- the NFP and People's Alliance Party Alliance has given hope to our people, it has provided a transparent and solid partnership so I think this partnership is great," he added.
"I think people are not fools, people have seen the performance of this government. We feel confident result will be favourable for the alliance.
"We have signed a very clear memorandum of understanding, a partnership agreement which lays down the foundation or the broad principles on which the NFP-PAP government will be formed and that of course based on a very strong, fundamental principle of governing for everyone.
"It will be an inclusive government and democratic government, one that is not is not vindictive. It will listen and respect all views, a government ready to review draconian pieces of legislation like media laws and electoral laws, assured Prasad.
At the close of the national poll at 6pm on Wednesday, there was no immediate announcement of the total voter turn-out for the country's one-day polling.
However, earlier in the day, the Supervisor of Elections, Mohammed Saneem predicted a possible lower voter turn-out, much less than the 72% in the 2018 elections.
At 5pm, Saneem's update to the media revealed that only 311,000 Fijians had gone to the polls, leaving an estimated over 200,000 voters that did not cast their votes.
This was even after an appeal from the country's President, Ratu Wiliame Katonivere an hour before the close of votes, urging Fijian voters to front up to their polling centres and vote.
SOURCE: PACNEWS