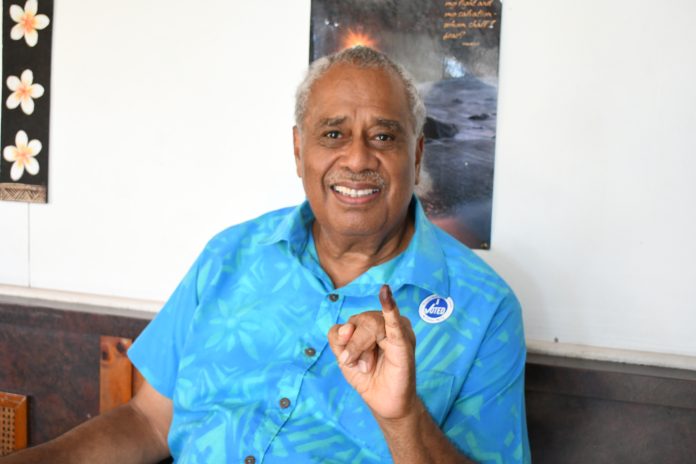 Fijian politician Savenaca Narube says the Fiji 2022 General Election is a day of victory for democracy, law and order and fairness that will herald in a new destiny for the country.
Speaking to PACNEWS today, the Unity Fiji Party leader is optimistic about the results of the polls, anticipating 22 seats in Parliament after the official results are released this weekend.
"We are preparing our actions for the first three months when we get to government. Our predicted baseline was at 18 seats but shifted to 22 seats, based on the feedback from our people on the ground," Narube said.
"People want something new; they are so tired with the same old policies, we need to take the bull by the horn and really move. We have a lot of potential to move and clean up a lot of things. We need a visionary party and leadership to steer the country in the next four years."
Unity Fiji, registered in September 2017 promotes itself as a "multiracial" movement that aims to "put people first".
The Party registered 46 provisional candidates to contest the 2022 Fijian general election.
"For us there were huge differences in this election, we established ourselves close to the last elections so we didn't have lots of time to prepare. Compared to this time, we had time for people to get to know us, so that's a big change, more people are aware of Unity Fiji," he said.
"The counting starts at 6pm, we'll monitor the count as it progresses tonight. I hope the count goes smoothly and there will be no irregularity."
Looking back at the past five months, Narube said there were challenges they had to deal with which includes "an oppressive and complicated" election campaign climate.
"This has been a long campaign, perhaps the longest in the political history of Fiji. What made it worse was that we didn't know the election date to pace ourselves on our campaign until very late", he said.
"It's been a long road, a tiring and uncertain one. So we are very relieved now that we are voting today."
"I am glad that today has arrived. It should be, for me, a day of victory for democracy, victory for law and order, victory for fairness, that to me is the most important part. I hope that today is a start of a new destiny for this country."
The polls closed as of 6pm with counting commencing at the National Count Centre in Suva under the close watch of polling agents and the Multinational Observer Group.
SOURCE: PACNEWS