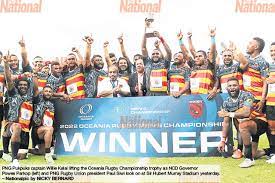 Papua New Guinea Pukpuks retained the Oceania Rugby Championship trophy after defeating Solomon Islands 22-18 at Sir Hubert Murray Stadium in Port Moresby .
The Pukpuks were reduced to 12 men in the final seven minutes after three yellow cards were issued to the Pukpuks with the Solomon Islanders mounting a last dash offensive against PNG.
A courageous effort in defence from the host's saw them held off a spirited Solomon Islands who launched themselves at the Pukpuks try line defence till full-time.
Solomon Islands shocked the Sydney Wesley-coached side when they led 10-7 at half-time. Both sides scored a try each in the first-half with a penalty goal from Solomon Islands saw them in front at the break.
Solomon Islands extended their lead to 15-7 when PNG winger Mafu Kalas fumbled the ball which saw a Solomon Islands player pounce on the lose ball and score in the corner in the 55th minute.
The conversion attempt by Solomon Islands was unsuccessful as the score remained 15-7. Pukpuks kicked a penalty goal three minutes later which saw them trail 10-15.
Solomon Islands extended their lead in the 61st minute through a penalty goal. Pukpuks muscled up in attack when five-eighth Paul Uro featured in a set move which saw them score in the corner.
Conversion kick was unsuccessful as Pukpuks trailed 15-18. Pukpuks scored again four minutes later to regain the lead.
A successful conversion saw Pukpuks led 22-18 with 10 minutes to go. The Willie Kalai-captained, Pukpuks, defended with 12 men over the last seven minutes till full-time. Solomon Islands Hunters had ample possession in Pukpuks territory to cause an upset but the Pukpuks desperately held on to secure the win.
Pukpuks coach Sydney Wesley told The National after the game that his men expected Solomon Islands to come strong.
"Years back the Pukpuks won by huge margin but that has changed over the years and in 2019 tournament, they (Solomon Islands) almost beat us," Wesley said.
"It's showed that they have improved a lot and we knew they were going to come charging at us.
"They kept us under the pressure till fulltime but I am proud of our defence which was solid," he said.
SOURCE: POST COURIER/PACNEWS