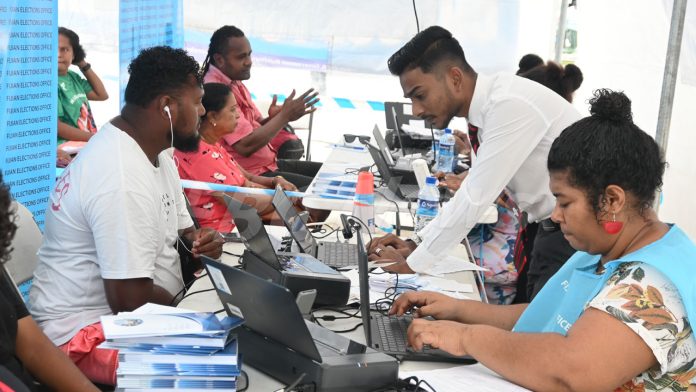 Registration of voters for Fiji's 2022 General Election closed at 6pm Monday with the Fijian Elections Office marking a milestone achievement in terms of daily engagement numbers.
Supervisor of Elections Mohammed Saneem said by 7pm Monday, the Fijian Elections Office recorded more than 9,000 engagements across 60-plus locations that were opened across the country alone, adding that it was indicative of the "huge interest in the politics of this country."
"Even though it was last minute, voters rushed to the registration venues which shows that they have a high level of commitment and a huge interest in the politics of this country and they will decide who will govern the country for the next four years," Saneem said.
Of the 9,608 engagements, 8,579 voters upgraded their Voter Card and about 1,029 were new registrants. The number equated to a little over 80 percent of total engagements yielded during the recent 3-day snap voter registration drive that started last Saturday.
"We had over 61 venues in operation and the snap voter registration drive from last weekend until 7 pm Monday had yielded 11,980 engagements by the Fijian Elections Office. Out of these 11,980 voters, there were 1,219 new registrations and 10,761 had upgraded their VoterCards," Saneem said during a press briefing at the FEO in Suva today.
As of 28 October 2022, a total of 692,918 Fijians are registered to vote in this election. Of the registered voters, 43 percent reside in the central division, 38 percent in the western division, 14 percent in the North, four percent in the eastern division, and one percent overseas.
Updated voter numbers, provisional at least, are expected to be released this weekend.
"Once we have the exact number, we will continue to prepare for the general election with that number."
The number of registered voters as of 28 October is nearly nine percent more than those registered when the country took to the polls in the 2018 election.
SOURCE: MAI TV/PACNEWS