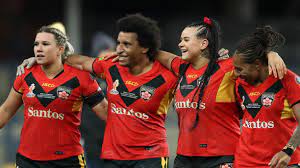 A pair of impressive finishes from fullback Martha Molowia either side of half-time helped propel Papua New Guinea to a 34-12 victory over Canada, marking their first ever Women's World Cup win.
Molowia smashed her way through would-be tacklers on a run down the sideline for her first just before break to give PNG a 8-6 lead, before carving through for another just a minute into the second half.
Through the opening 20 minutes it was Canada who dominated proceedings, and they enjoyed plenty of scoring opportunities throughout the match, but too often the last pass was missing when space presented on the edges.
After Papua New Guinea opened the scoring on 24 minutes, the Ravens led momentarily thanks to a converted try, but from the 37th minute onward the Orchids controlled the match.
Five second-half tries, three of which were converted, was enough to see Papua New Guinea to a comfortable victory, despite Canada hitting back with one of their own on the hour mark.
Host nation England, who were convincing first-up winners over Brazil, await Canada, while Papua New Guinea head to Hull to take on Brazil in their second match.
SOURCE: NRL/PACNEWS