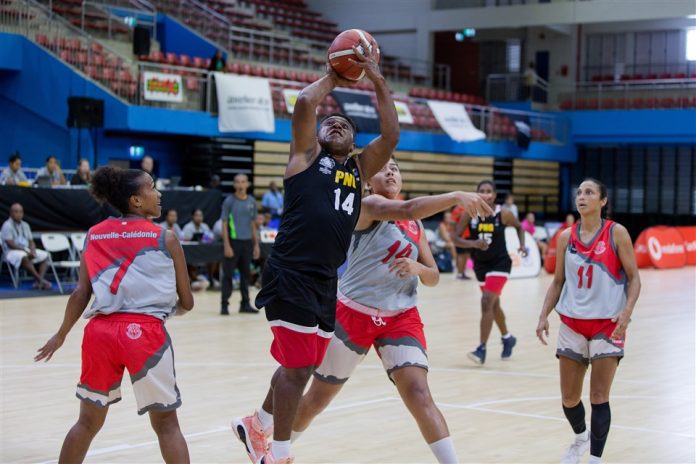 Day two of the FIBA Melanesian Cup women's competition did not disappoint with defending champions, Papua New Guinea, holding on by one point against an inspired New Caledonian outfit.
Enola Ah Ah Tchung was in superb touch for New Caledonia with 20 points followed by Roselyne Forest with 19, but it wasn't enough, the New Caledonians falling agonisingly short, 66-67 at the final buzzer.
Captain Marca Muri again led from the front for Papua New Guinea (PNG) with 16 points, 8 turnovers and 4 assists. Sherah Yawasing finished with 12 off the bench and Betty Angula starred with 17 rebounds, 12 of those defensive, 8 turnovers, 7 points and 5 assists.
"I am super proud of the girls, they have done a tremendous job today and it was a relief to get another win," Angula said. "We have been training together for months no so even though I was on the bench in the final minutes, I was feeling really calm because I knew that they would do the job. For us to get this win is something special for us."
Being fouled out in the dying stages of the final quarter did not dampen Angula's spirits and she reflected on that post game. "I came into foul trouble in the third quarter and was fouled out in the fourth, so I had to trust and believe in my team," Angula said.
"There is always room for improvement, and I believe I can do much better. New Caledonia are a quality side, and they gave us a good run and they have done extremely well so I'm really proud of them as well."
Both Fiji and PNG head into the final day of the group phase undefeated with a mouth-watering clash set to take place at Vodafone Arena, Suva when the two meet tomorrow.
Fiji were dominant against Solomon Islands running out winners, 76-34, despite a gallant individual effort from Solomon Islander Maya Tepua Van Den Heever who finished with a triple double, 11-10-10.
Letava Whippy, Matila Vocea and Mili Koyamainavure all starred for Fiji, who after a sluggish start, came out with a point to prove in the final half.
"We started off a bit slow but once we found out rhythm, we got it going, we played our full bench which was good, everybody played and enjoyed the game," Koyamainavure said.
Ahead of today's blockbuster against PNG, Koyamainavure said; "Tonight we go back to the books and look at what we didn't do well today and yesterday and come back stronger. We need to come back stronger because we know that PNG are one hell of a team, we are going to be ready for them."
The FIBA Melanesian Cup 2022 continues today with New Caledonia up against Solomon Islands 2:30pm local time, and Fiji and Papua New Guinea facing off at 5pm local time.
The top two teams at the Melanesian Cup will qualify for the 2023 Pacific Games in the Solomon Islands. The Pacific Games then serves as the official qualifier for the Oceania region to the FIBA Asia Cup Pre-Qualifiers…..PACNEWS
SOURCE: FIBA/PACNEWS