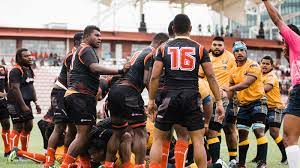 Oceania Rugby can confirm that 2022 Oceania Rugby Men's Championship fixtures have been rescheduled.
Hosted by Papua New Guinea Rugby Union, the 2022 Oceania Rugby Men's Championship that was scheduled for 19 October at Sir Hubert Murray Stadium has now been postponed to 2 – 10 November.
Challenges with flight schedules, availability and travel documentation between countries meant the tournament dates had to be amended in order for the Championship to take place in Papua New Guinea.
Teams are all set to arrive into Port Moresby from 29 October ahead of the new match dates.
All matches will be broadcast on EMTV
2022 Oceania Rugby Men's Championship Schedule (Sir Hubert Murray Stadium Stadium)
Match Round 1: Wednesday 2 November 2022
3PM: Papua New Guinea v Vanuatu
Match Round 2: Sunday 6 November 2022
3PM: Papua New Guinea v Solomon Islands
Match Round 3: Thursday 10 November 2022
3PM: Solomon Islands v Vanuatu
All Kick-Off times are local Papua New Guinea times
SOURCE: OCEANIA RUGBY/PACNEWS