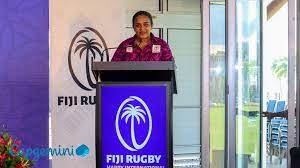 Rugby has been a huge part of Mere Rakoroi's life, and she knows the transformational impact the game can have. "It changes lives," she told World Rugby.
Although she was not able to play rugby as a youngster, Rakoroi was surrounded by the game growing up with her parents and 13 siblings in Fiji.
One of her older brothers, Koli won 21 caps for Fiji and captained the Pacific Island nation at the inaugural men's Rugby World Cup in 1987.
Rakoroi remembers being taken to watch his matches by her father and thinking that "my brother and family are probably the coolest people on earth right now!"
Twenty-five years on and Rakoroi is forging her own path in the game as the first woman to be co-opted onto the Fiji Rugby Union (FRU) board.
It was her brother's achievements on the pitch and her own love of the game, as well as her professional experience, that convinced her to accept that opportunity four years ago.
"I realised that I could use all my skills and apply them to rugby, off the field," she explained.
An opportunity
Earlier this year, her development as an administrator continued when she was accepted onto the Capgemini Women in Rugby Leadership Programme.
"When I first heard it, I thought something was wrong with my ears," Rakoroi joked about learning that her application had been successful.
"I processed it, and I figured that they said, 'Oh, you've got the scholarship'. The first thing I did, I screamed in my office.
"I screamed, I clapped my hands and then I looked out and I realised my whole staff was watching me and I tried to remain cool.
"The only thing I can remember is that I kept telling them, I said, thank you to World Rugby, thank you, Oceania Rugby because now you've given Fiji Rugby an opportunity to listen, to learn and to learn to make a difference."
Following the call, Rakoroi, who works as a general manager for a hotel chain, celebrated briefly with her staff and toasted the good news with kava.
She hopes to use her time on the programme to help build a network of contacts and align the work she is doing at the FRU with the World Rugby's Women in Rugby 2017-25 plan.
"We can align ourselves at the Fiji Rugby Union to what World Rugby is doing so that things can be simplified and we're able to take action and make changes as we progress," Rakoroi said.
"My time [on the FRU board] is coming up next year, but if the board wants me to stay, I'd be able to work along with the strategic plan to make sure that we achieve all that before my term is over.
"And I'll be able to hand over all the knowledge and everything to the next female board member that will come after me."
In the seven months since her involvement with the programme was made public, Rakoroi has worked closely with her coach Clayton and mentor Danielle.
With their help she has identified her strengths as a leader and has subsequently enrolled on three courses with the Capgemini University: 'Executive Presence for Leaders', 'Storytelling in Business' and the Connected Manager programme.
"The first thing we did was establish a relationship between the coach and the mentor," Rakoroi said.
"I always make sure that my time is made available, especially for them. They have given up their time for me all these seven months and I've been very grateful.
"They have impeccable experience as well. We shared a lot of experiences and what works well with me is that most of the things that we talk about are very relevant towards a boardroom discussion for Fiji Rugby and real-time experience.
"And one of the things that works well is making sure that we stay relevant to what is happening around us and how we apply [to that] situation. It must be effective and it must be sustainable as well."
Influencing change
Rakoroi is currently in New Zealand as a member of the Fijian delegation as the country's women make their own Rugby World Cup debut.
Fijiana followed up their opening defeat to England with a win against South Africa last weekend, and Rakoroi believes the team is having a potentially transformational impact for women in rugby on the islands.
"What they're doing right now on the field [will mean] it'll be growing much, much faster back home, especially for young girls," she said.
"It's going to influence a change in mindset on how we look at women's rugby when we go back home… we are no longer going to look at it as gender, it's going to become professional athletes out on the field.
"One of the most important things is these ladies are going to go back with remarkable stories. They're going to go back with journeys, and it will become the talk of a household in Fiji or even around the world, a discussion about where they started off and what the journey has been like.
"So yes, it's so important that it changes the lives back home soon after this."
Following almost two decades working in management, Rakoroi is a firm believer that "every challenge comes with a solution".
And while she acknowledges there is still hard work to be done, she believes that there is a bright future for women in rugby in Fiji.
Having watched the Fijiana sevens claim an Olympic bronze medal in Tokyo last year, Rakoroi is confident the 15s team can break into the top 10 of the World Rugby Women's Rankings powered by Capgemini.
"It's a challenge but I've seen these girls grow," she said, "they can keep going until they become the very top."
"Off the field," Rakoroi added, "the way I see it is we're definitely going to have a 50-50 balance on board.
"I also have this thinking that if we achieve so much on the field, we can also achieve a lot off the field as well where we are growing rugby.
"When the girls are moving at a faster pace, we can also do that at boardroom level and that's when the gender balance comes up and women are able to give ideas and share their experiences in order to drive the sport forward." .
SOURCE: WORLD RUGBY/PACNEWS