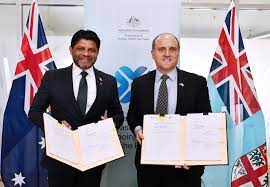 The Australian Infrastructure Financing Facility for the Pacific (AIFFP) will provide FJD$117 million (US$58.5 million) in financing to support the restoration and upgrade of key roads and bridges in Fiji.
Attorney-General Aiyaz Sayed-Khaiyum, Australia's Charge d'affaires John Williams and Fiji Roads Authority CEO, Kamal Prasad participated in the signing ceremony Tuesday.
This financing package includes a FJD$24 million (US$12 million) grant component. With the grant component, this loan is concessional and will be fast-disbursing, meaning we can provide support to Fiji's economic recovery.
During his remarks, Attorney-General and Minister for Economy, Aiyaz Sayed-Khaiyum stressed that it is crucial to construct infrastructure that is robust and to ensure that people have access to adequate roads and bridges.
Additionally, the A-G highlighted the importance of rebuilding infrastructure that can withstand climatic events of all kinds.
With this concession, there is a 15-year payment period with a three-year grace period and this is the first ever sovereign loan by the Australian government.
Williams highlighted that this financing package will support the Fiji Roads Authority (FRA) in the renewal or resealing of more than 1.5 million square metres of road surface throughout Fiji, as well as the replacement of nine bridges that are crucial to the Fijian economy.
Williams also adds that Climate change is at the heart of this investment.
"We are delighted that the Fijian Government is ensuring that upgraded bridges will be climate resilient. They will have a design life of 100-years and the ability to withstand a one in 100-year rainfall event."
"Our partnership today builds on the rapid support Australia provided to Fiji during the COVID-19 pandemic. Contributing to the ongoing recovery, this investment will support the Fijian Government's effort to prioritise local workforce engagement, ensuring money flows back into Fijian communities."
Sharing similar sentiments, FRA CEO, Kamal thanked the Australian government for its budget support to improve the road and bridge network around the country.
SOURCE: FIJI GOVT/PACNEWS