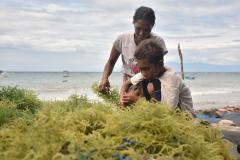 By Kanni Wignaraja and Tuya Altangerel
Each month Mana Kasian receives a pension of about US$500 from the government of Timor-Leste, along with a few other benefits. She spends most of that money in her home city of Liquica, rebuilding local schools and sheltering victims of domestic violence that include women, girls, and boys.
As a former freedom fighter, who braved bullets and sacrificed her youth, health, and livelihood in the relentless struggle for independence; Kasian recognises the post-independence transformations and at the same time finds herself disappointed by the country's slow trajectory of development.
She laments Timor-Leste's poor road conditions, the numbers of malnourished children, and the daily struggle waged by so many people to earn a decent wage, simply to survive.
She wants more from a free Timor-Leste, as she had envisaged 20 years ago.
In May, Timor-Leste celebrated the 20th anniversary of its restoration of independence. As the youngest nation in the Asia Pacific region, it has much to be proud of, including a vibrant democracy, which regularly features peaceful elections and the orderly transition of power; freedom of speech; a flourishing civic space; and notable investments in health, education, and poverty reduction.
But the COVID-19 pandemic compounded by floods in April 2021, severely affected about 50 percent of households who were already struggling to get by.
In response to these compounding crises, the government provided one of the most generous subsidies in the world that included a one-time cash handout of about US$200 to each household, food baskets worth US$50, subsidised fuel and electricity, and free transportation for students, and owners of small and medium businesses.
The measures were bankrolled by the country's independent Petroleum Fund, which has a reserve of around US$16.5 billion, following prudent investments, in international markets. In fact, the Petroleum Fund's dollars have served as the main source of public spending up until now, a conscious effort to prevent the country from taking on a high-debt burden.
This year, UNDP's latest Human Development Report ranked Timor-Leste's human development at 140 out of 191 nations. While the country has made substantial strides in life expectancy and years of schooling and income, the full potential of its human capital remains untapped, and progress remains fragile and vulnerable to climate induced disasters.
As a small island state, it imports basic staples such as rice and is grappling with increasing food and fuel costs. The little food produced domestically is either too expensive for an average Timorese family, or only sporadically available. Most households spend almost 70 percent of their income on food items alone, which leaves them with little to invest in their children's education, health, and nutrition.
Among the questions Mana Kasian and other Timorese are asking is: What now? After 20 years of independence, when can Timorese children stop being among the most stunted and malnourished in the region, and when can youth – who constitute 74 percent of the population – exercise their entrepreneurial spirit by starting businesses at home instead of dreaming of seasonal work abroad?
The answers are not easy as Timor-Leste stands at a crossroads looking for the best way to get ahead. One of the options on hand is the "Blue Economy Financing Roadmap" supported by the UN. The Blue Economy – taking advantage of, preserving, and regenerating the country's marine environment – presents a promising and yet untapped opportunity to leverage large-scale funding for sustainable development, and to address the country's persistent human development challenges.
The roadmap explores the role this blue economy can play in leveraging and using that domestic and external financing to accelerate sustainable economic development across the four key pillars of the country's Strategic Development Plan: social capital; infrastructure development; economic development; and institutional frameworks.
It also offers viable pathways for economic diversification that would enable the country to graduate from Least Development Country status, and into the ranks of middle-income-countries. In addition, a green/blue economic and social recovery helps broaden Timorese people's access to clean energy and ocean resources.
This roadmap that can be realised, also calls for a national dialogue to include the voices of all its people, to inform and advance an economic transformation that is just, equitable, and benefits all Timorese people.
It speaks to the wealth of a nation that lies not only in its natural resources but also in its human capital. And it underpins the motto of Timor-Leste that people such as Mana Kasian fought for – Unity, Action, Progress – a path for its people to lead dignified and prosperous lives.
Kanni Wignaraja is UN Assistant Secretary General and Director of UNDP's Regional Bureau for Asia and the Pacific. Tuya Altangerel is the UNDP Resident Representative in Timor-Leste.
SOURCE: UNDP/PACNEWS