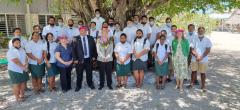 Australia's foreign minister announces education funding of at least $20 million (US$12.6 million) over five years in Nauru focusing on "long term change".
Minister Penny Wong who is visiting Nauru for the day, first meeting with President Russ Kun and Cabinet, announced the news to students of Nauru Secondary School, 14 October, saying Australia is committed to another decade and beyond of support and partnership in education in Nauru with the $20m (US$12.6 million) being the first phase of the support.
The Minister adds that on the request of the Nauru government, the funding commences quickly in November 2022.
"We think (it) is a good commencement time and we'll continue our partnership to support inclusive and education pathways and to help the young people of Nauru prepare for the future."
Minister Wong encouraged students to look at education as having the power to transform lives.
"Apart from your family and your faith, it is that (education) which makes you most resilient in this world and most able to make your own decisions about what you want to do."
Education Minister Richard-Hyde Menke welcomed Minister Wong to Nauru and to NSS "to see first-hand the school which Nauru looks for its future leaders."
"With the enabling support of Australia to our education systems not only do the students of Nauru Secondary School exit their schooling with the senior school certificate as do their peers in Australia but enhance the opportunities for our students with their post-secondary choices.
"It's only through a mutual process the next phase of Australia's support will strengthen key areas of our education system such as early years and pathways for the secondary years," he said.
SOURCE: NAURU GOVT/PACNEWS