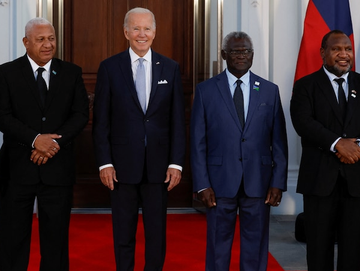 Solomon Islands Prime Minister Manasseh Sogavare, has had a very productive engagement at the U.S President Joe Biden Summit with Pacific Island Leaders last week in Washington DC.
"Day one begun with a working lunch for all Pacific Island Leaders hosted by the Secretary of State, Anthony Blinken. The lunch was followed by a leaders meeting discussing opportunities to enhance economic and trade ties between U.S and the Pacific.
"A good part of the day was on a roundtable discussion on Climate Change action, climate resilience efforts and clean-energy transformation with U.S Special Envoy for Climate Change, John Kerry.
"Prime Minister, Manasseh Sogavare, was given the honour to deliver Solomon Islands statement on 'Maritime domain awareness, IUU (Illegal, Unreported and Unregulated) fishing and maritime security' at the U.S Coast Guard Headquarters," a government statement said.
"Maritime Domain Awareness is a high priority for Forum countries. Safeguarding our collective and individual EEZs (Exclusive Economic Zones) will ensure regional and national security, enhances economic development and protects the sovereignty of Forum member states" Prime Minister Sogavare stated.
Prime Minister Sogavare said careful monitoring of the Pacific's tuna stocks is an essential activity that all PIF countries wish to improve to ensure they are not overfished.
"Landed tuna generates more than a billion dollars in revenue annually. Forum countries are trying to benefit more from our resource. In this regard, we thank the United States government for the recent increase in funds under our multilateral tuna treaty."
He said a number of Pacific Island countries are exploring opportunities with their seabed mineral resources.
On climate change, Prime Minister Sogavare pointed out that Solomon Islands is vulnerable to the impacts of climate change, adding that the country has lost six islands due to sea-level rise.
He emphasised that, "The impact of climate change on our oceans is likely to cause migration of tuna eastwards in the coming decade, raising the question on viability of canneries in countries in the western Pacific which could have major implications for member countries economy.
"It is important that all countries must agree on a common position that Pacific maritime boundaries, once instruments are signed and deposited with the United Nations boundaries achieve permanent status, which uphold the principles of stability, security, certainty, and perpetuity enshrined in UNCLOS (United Nations Convention on the Law of the Sea)."
Solomon Islands welcomes the ground-breaking decision by the United Nations Environment Assembly and supports the development of a legally binding agreement to eliminate plastic pollution which should also have its own financial mechanism to implement the proposed treaty.
Prime Minister Sogavare also touched on Illegal, Unreported, and unregulated (IUU), fishing. He described IUU as a global scourge that undermined the country's efforts to sustainably manage its fisheries. "For example, a 2016 study by the Forum Fisheries Agency found approximately US $616.11 million was lost to IUU fishing," he said.
Prime Minister Sogavare encouraged the Pacific and partners to expand partnerships in maritime surveillance to provide the platform to better monitor and counter IUU fishing in the region.
He said the country is currently reviewing its maritime surveillance and security including review of existing legislations to enhance capacity on maritime surveillance and law enforcement in its EEZ.
Prime Minister Sogavare said Solomon Islands welcomes regional and international cooperation to ensure that collectively we can safeguard the future of our Blue Pacific continent.
The summit was part of U.S efforts to boost its engagement with the Pacific amidst China's growing influence.
SOURCE: SOLOMON STAR/PACNEWS